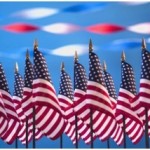 Memorial Weekend is often celebrated as the first long weekend of the Summer, when weather has finally warmed up.  Don't forget to take time to remember those who gave their lives for our country this Memorial Day.  There are Memorial Day parades and ceremonies around Columbus to honor the fallen.
May 28
Grandview Heights Parade: 10 am on First Avenue from Cambridge Boulevard to Oxley Road.
Westerville Field of Heroes, presented by the Rotary Club of Westerville Sunrise, in the soccer fields across the street from the Westerville Community Center on Cleveland Avenue is visual display of more than 3,000 American flags, and thousands of ceramic poppies in tribute to women who have served in the military. It will include an opening ceremony Saturday, May 28, a Sunday, May 29, Memorial Ceremony in Tribute to Women in the Military, and a 5K Run/Walk benefiting the USO and sponsored by OhioHealth. Learn more at fieldofheroes.org.
May 30
Ashley Memorial Day Parade: 9 am from downtown Ashley to Ashley Union Cemetery
Bexley Memorial Day celebration: 11 a.m. at Drexel Circle in Bexley
Columbus: At 11 a.m., a ceremony will be held at the Sunset Cemetery, 6959 W. Broad St., with an honor guard and a rifle volley planned. Dignitaries will speak. At noon, Post 532 will move across the street for a similar ceremony at the Alton Cemetery on Alton Darby Creek Road.
Delaware Memorial Day ceremony: 10 am at Oak Grove Cemetery, plus a dedication ceremony for the new Veterans Memorial Plaza at noon at 1121 S. Houk Road.
Dublin Memorial Day Parade and Observance: 11 a.m parade in Historic Dublin; 11:30 am ceremony at the Dublin Cemetery; 12 pm commemoration  of the Grounds of Remembrance in Dublin Veterans Park; 12:45 complimentary picnic lunch on the grounds of the Dublin Library.
Gahanna Memorial Day observance: 1 p.m. at Veterans Memorial Park, 73 W. Johnstown Road.
Galena Memorial Day Parade: 1 pm from Galena Village Square to the village cemetery
Grove City Memorial Day Parade and Service: 11 am at Our Lady of Perpetual Help Church and proceeds down Broadway for a dedication ceremony of the Gold Star Families Memorial at the southeast corner of Broadway and Columbus Street. The parade will continue to Grove City Cemetery, 3605 Grove City Road, for the Grove City Memorial Day service.
Hilliard: 11 am VFW and American Legion posts will observe Memorial Day with a ceremony at Wesley Chapel Cemetery
Galloway: 9:30 a.m. Memorial Day service at Galloway Cemetery on Alkire Road; 12 pm Memorial Day service at Alton Cemetery
Granville Memorial Day Parade: 10:30 a.m. May 30 on Broadway and end in Maple Grove Cemetery with a ceremony.
Marysville Memorial Day Parade:  9 a.m. at Plum and East Fifth streets to Oakdale Cemetery where a memorial service will begin at 9:30 a.m.
Pataskala Memorial Day observance: 10 a.m. May 30 at the Pataskala Cemetery; 11 a.m. ceremony at Veterans Green at Main and Front streets.
Pickerington: 9 a.m. ceremony at Violet Cemetery; 9:30 am march to Victory Park; 10:30 ceremony in Glen Rest Memorial Estate, 8029 E. Main St. in Reynoldsburg to honor Cpl. David Johnston, the post's namesake, and Cpl. Dustin Durga and Lance Cpl. Terry Parsons; 1 p.m. the Memorial Day celebration will begin at the post in Pickerington and will include guests from Mike Co. 3rd Battalion, 5th Marine Regiment.
City of Powell Memorial Day Parade and Ceremony: 10 am – 12:30 pm. Begins on Grace Dr. and proceeds west.  The ceremony will be held at the

Greater Powell Veterans Memorial in Village Green Park

.
Reynoldsburg: 10 a.m. service will be conducted by Whitehall VFW Post 8794; 1 p.m. ceremony at Forest Lawn Memorial Gardens. A bagpiper will play between 9:30 and 11 a.m. and again between 12:30 and 3 p.m. and will take part in both services.
Whitehall: 10 am ceremony with Whitehall VFW Post No. 8794 at 10 a.m. at Forest Lawn Memorial Gardens.  A second ceremony will be held at noon May 30 at the VFW post, 4100 E. Main St. Whitehall Mayor Kim Maggard will speak.
Worthington Memorial Day Parade and Ceremony: 10 am. Begins on E. Dublin-Granville Rd. and proceeds south on High St.  The ceremony will be held at Walnut Grove Cemetery.