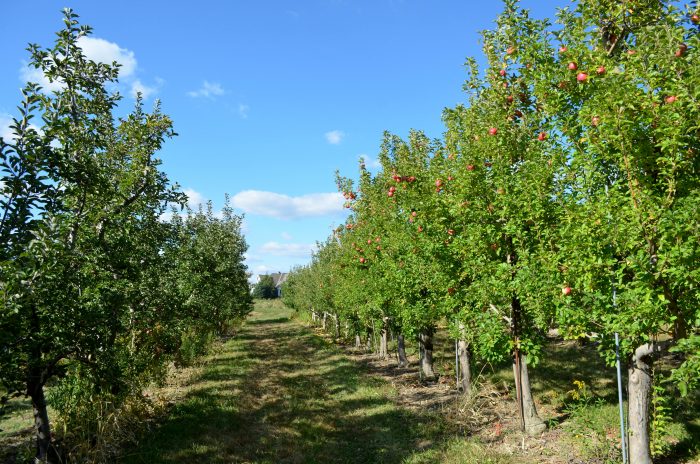 Apple and peach season is here at orchards around Columbus!  While it's early in the season for apples and only select varieties are available now, you can plan your picking for the fall!  I gathered up a list of the 12 best places to pick apples in Columbus, and the 5 best orchards to pick peaches in Columbus, so you can have a freshly picked apple a day for the next 4 months!  Peaches have a shorter season, so don't delay! You won't want to miss juicy Ohio peaches!
Apples are available now through late October or early November, so you have several months to pick your favorite apple varieties and try some new ones.  Whether you prefer sweet, tangy, or sour apples for eating or cooking, there are so many varieties to choose from. Before you head to an orchard to pick apples or peaches, make sure to verify u-pick times and availability, or confirm on their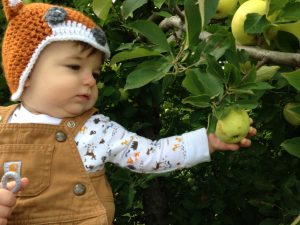 Facebook page.
Don't forget your camera for great photo ops!
Picking Apples in Columbus
North
South
Hirsch Fruit Farm: 12846 State Route 772, Chillicothe, OH 45601. Phone: 740-775-7055
apples (limited picking dates), pumpkins.
Hann Farms: 4600 Lockbourne Rd, Columbus, OH 43207, 614-491-0812.
9 varieties of apples, check u-pick availability beginning in July; call for hours and availability
East
Lynd Fruit Farm: 9091 Morse Road SW, Pataskala, OH 43062. Phone: (740)927-7113
20+ varieties of 

apples beginning in late August, pumpkins (October), asian pears (early October) U-pick and already picked, farm market, concessions, etc.  U-pick apples are $15/ small bag,

 

$25/ large bag ($10 more for honeycrisp).  See website or

Facebook page

for availability.

Branstool Orchards, 5895 Johnstown Utica Rd, Utica, Ohio, OH 43080 (740) 892-3989
37 varieties of apples, 26 varieties of peaches (mid/late-July), 3 varieties of pears, and pumpkins. Wagons are provided and tasting is encouraged!  This is one of my favorite orchards to visit and it's never too busy.  Plus the peaches and apples are amazing!  The grounds are beautiful, so enjoy the scenery while you're there.
West
The Orchard & Co, 7255 US HWY 42 North, Plain City. 614-873-0510
11 varieties of apples beginning in late August, plus u-pick pumpkins, food, and more.  Honeycrisp: $25 peck (10# bag) and $35 1/2 Bushel (20# bag), All other varieties: $15 peck (10# bag) and $25 1/2 Bushel (20# bag)
Picking Peaches in Columbus

North
Apple Hill Orchards:
1175 Lexington-Ontario Road, Mansfield, Ohio 44903 (419) 884-1500
16780 Fredericktown-Amity Road, Fredericktown, Ohio 43210, 740-694-768888
30 varieties of apples (starting in early July), 8 varieties of peaches (August), plus pears (September), plums (September), cherries (July), and pumpkins (October).  Not everything will be available for u-pick, depending on crop availability. Follow on Facebook for updates.
Lawrence Orchards: 2634 Smeltzer Road, Marion, OH 43302. Phone: 740-389-3019.
15 varieties of apples, peaches, pumpkins, Christmas trees.  Integrated pest management system for lower chemical use. Not everything will be available for u-pick, depending on crop availability. See Facebook page for updates.
East
Looking for raspberries, blackberries, blueberries, or strawberries for next year?  Check out this article about places to pick berries around Columbus!
U-pick: Best places to pick apples and peaches in Columbus
When
All Day Daily (July 9, 2018 - November 17, 2018)
Reader Interactions