BalletMet The Nutcracker is a favorite holiday tradition in Columbus and will be performed at the historic Ohio Theatre from December 8-24, 2017.  This show has been enjoyed in Columbus since 1974 and is something that you'll want to see year after year with family and friends. BalletMet, with live music by Columbus Symphony Orchestra, will entertain all ages with the magical choreography, costumes, and sets.
The tale of the imaginative Clara, the nutcracker who turns into a prince, the Mouse King and the Sugarplum Fairy, will feature a large cast including BalletMet's professional dancers from both its companies – BalletMet and BalletMet 2, along with 152 students from the BalletMet Academy. Each performance will have more than 122 characters onstage – including academy students in the roles of pages, party children, mice, and soldiers performing alongside BalletMet's renowned professionals.
Performances are held Dec. 8 to 24, 2017 at the Ohio Theatre.  Arrive early or stay after and explore the holiday lights of downtown Columbus or dine at a local restaurant or bar.  Ticket prices range from $29 to $93 and can be purchased at the CAPA Ticket Center (39 E. State St.) and online at ticketmaster.com. To purchase tickets by phone, please call (614) 469-0939 or (800) 745-3000.
Enter to win 4 tickets to The Nutcracker through Sunday, November 12.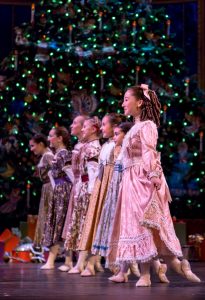 BalletMet The Nutcracker Performances:
Friday, 12/8 7:30 p.m.
Saturday, 12/9 1 p.m. & 5:30 p.m.
Sunday, 12/10 1 p.m. & 5:30 p.m.
Friday, 12/15 7:30 p.m.
Saturday, 12/16 2 p.m. & 7:30 p.m.
Sunday, 12/17 12 p.m. & 5:30 p.m.
Wednesday, 12/20 7:30 p.m.
Thursday, 12/21 7:30 p.m.
Friday, 12/22 2 p.m. & 7:30 p.m.
Saturday, 12/23 2 p.m. & 7:30 p.m
Sunday, 12/24 2 p.m.
photos via BalletMet