It's been a steamy summer – hot and/or rainy, and indoor play is a great way for kids to burn off some energy.  Whether you're at home with your children during the week, or you're hanging out with them on the weekends and evenings, sometimes you just need to get out of the house!  There are plenty of indoor play places and activities in Columbus to help your little ones burn off some energy without feeling like you're walking on the surface of the sun (or in a rainforest).
Please check links or call before you go in case there are changes in hours during the summer.
Don't forget to check out the Columbus on the Cheap event calendar to find upcoming activities and events going on in Columbus. You'll discover family-friendly options, as well as plenty of grown-up date ideas and nights out, wine tastings, movies, and more.
Mall play areas and Stores with play areas
Free play areas and activities
Libraries: Most local libraries have a kids area with puzzles, small toys, and other fun activities, plus story times for all ages.  The Columbus Main Library is a favorite with lots of play structures, double-sided fish tank, and more. Staff often walks around and interacts with kids. You can easily spend a couple of hours playing and exploring.
Graeters Scoops and Shoots Play Area: There's a great play area in the Graeters on Bethel Rd. with slides and structures to climb in and around.  No purchase necessary, but it's ice cream, so just plan to get some while you're there.  Otherwise, the play area is completely free!  Geared for ages 9 and under.
Columbus Museum of Art (Free on Sundays)- The Center for Creativity offers hands on imaginative and creative play in several areas for all ages.  Free on Sundays, Kids under 5 are always free, and Thursdays from 5-9 pm are "pay what you want"
Metro Park Nature Centers: These all vary in substance, but many of the nature centers at the Metro Parks have things for the kids to explore and interactive exhibits, so it's definitely checking out all of the ones around you.
Eagles Nest at Giant Eagle: Grocery shopping with kids can be stressful for everyone…but if you go to the Dublin, Westerville, and Kingsdale, you can drop the kids off at the FREE Eagles Nest.  Kids ages 3+ will play (crafts, games, movies, etc) while you shop in peace.
Coffee Connections in Hilliard: This coffee house has a separate space behind with more seating and a kids' area on the second floor with comfy seating and creative play opportunities.
Westerville Community Center: Free Tree Top Playground right off of the lobby which requires no membership or admission. The structure looks best suited to 2 years and up, as it's quite high
Central Park Playland at Westerville Christian Church: Large indoor play climbing structure inside of the Westerville Christian Church.  Open play during designated times throughout week, check website for hours. Best for kids ages 3-6.  If your 2/3 year old is short or isn't a good climber, the structure may be hard for him or her as the climbing platforms are a bit high for that age.  There is one small slide that's good for younger age, but it was often dominated by bigger kids who weren't very patient with small toddlers.  Socks required.  Benches to sit and watch kids, plus a little cafe area with tables and highchairs in lobby to have a snack or lunch before you leave (cafe wasn't open when we visited).  Like the Facebook page for closure information (happens occasionally). Great option for birthday parties for just $75; book 6 months in advance as it fills quickly.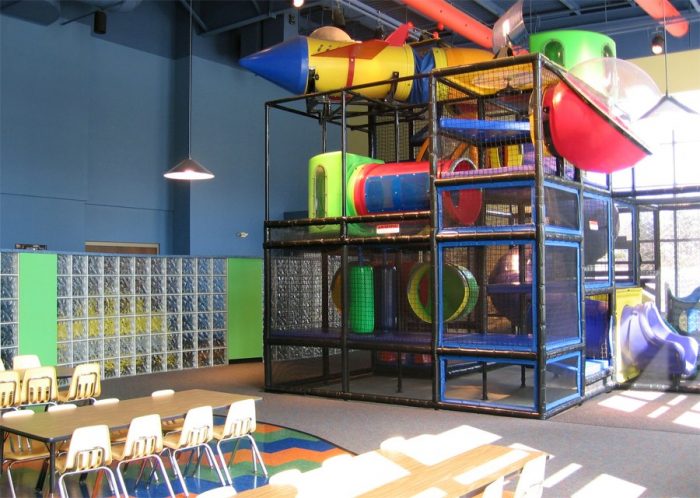 Day-specific Drop-in Programs (Seasonal – typically not held in summer)
Toddler Time at Westerville Community Center, select seasons from 9:30-11:30 am:  For kids kindergarten age and under and their parents, $3 admission. Wide variety of large and fine motor skills equipment will be available, plus arts and crafts.
Pee Wee Play Gym at Westerville Community Center, select seasons from 9:30 – 11:30 a.m.: 3-year-olds and under with parent, Drop In Rate: $3. Wide variety of large and fine motor skills equipment to play with.
Preschool Open Gym at Dublin Rec Center, select seasons from 9-11 am: For ages 6 months – 6 years, $3 per child.  The gym is set up with age appropriate toys and equipment for you and your child to play and have a safe, fun time.  Follows Dublin Schools schedule and weather closings; no gym 1/15, 2/19, 3/26, 3/30, 4/2.
Play Cafes and Pay Attractions
Active Fun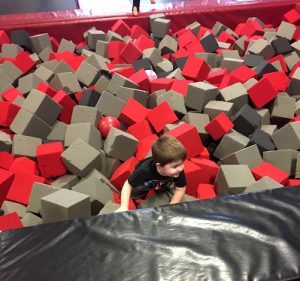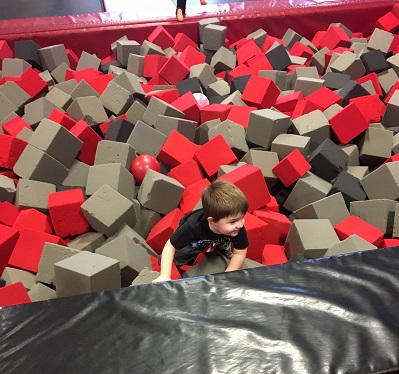 (pricing and hours subject to change; please verify at links before visiting)
Open Gym at Integrity Gymnastics in Plain City: Open gyms for Toddlers/Preschoolers, and for ages 6-16 every week. Check website for schedule changes. Cost is $5-$10.
Gym Skills in Gahanna: Preschool Area, Foam Pit Gym Area, Tumble Trak, and Juice Bar and Pro Shop.  Stay and Play is for kids walking – 10 years old (sectioned off for younger kids), $8-$15 non-members  Open Gym is for ages 6 and up to work on whatever skills they want. Cost: $12-$15.
Recreation Outlet in Powell: Enjoy all of the fun of going to a park – but stay inside!  The huge indoor showroom features a huge variety of playsets, trampolines, basketball courts and more.  Pay-to-Play on Mon-Fri is $6 for 2 hours, Sat-Sun and school holidays is $8 for 2 hours. Charitable Play is Tuesday, Wednesday, Thursday: 9 a.m. – 11 a.m with a $2 donation per child per visit.
Magic Mountain in Polaris and Reynoldsburg: KidsGym Playland climbing structure for Ages 3 and older: Weekdays: $5, Weekends: $6.50, Ages Under 3: $3.00. Arcade games, laser tag, adventure golf, and more, as well as food available.
Lazer Kraze in Lewis Center and Gahanna: Laser Tag, Inflatables (Lewis Center), Trampoline Park (Gahanna), Arcade and more.  Pricing for individual attractions on site; check specials tab for deals.
Glow Putt Mini Golf in Gahanna: Indoor glow-in-the-dark putt putt.  Pricing is $5 and up.
Ice Skating: You don't have to brave the frigid temps with these indoor ice skating rinks.
Bowling: Check your local bowling alley for pricing and hours.  Here are some family-friendly alley suggestions.
Roller Skating: You probably did a lot of roller skating while you were a kid – and for good reason…it's tons of fun!

Skate America in Grove City: Great pricing and plenty of discounts through the year
Skate Zone 71 near Morse Rd: Tons of skate parties with character visits.  Little kids skate is on Saturday mornings. There are also discounted days, young teen nights, and adult nights. Teachers and a guest skate free in December and January with I.D.
United Skates of America on Refugee Rd: Lots of family skate and discount days.
Indoor Swimming
Crafts and Activities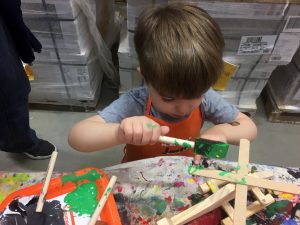 Take a little drive for one of these lesser known attractions
Dawes Arboretum in Newark: The Discovery Center is located in the lower level of the Visitor's Center and has hands-on nature activities, puzzles, books, a working beehive (visible from inside), turtles, a snake, and an amazing Bird Watching Garden where you can watch a variety of birds, see chipmunks play, and may even spot a cat wandering around.  If you're there on a nice day, wander through the Storytime Trail outside of the Center, where you'll read a page of a story at each stop along the trail. This is a fantastic place to get some exercise with a stroller on a nice day (lots of hills, wooded/shaded paths) and enjoy a picnic after you're done too, so you can easily fill a couple of hours.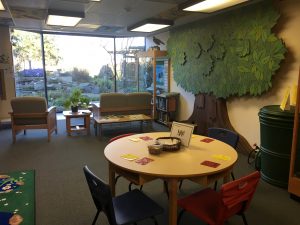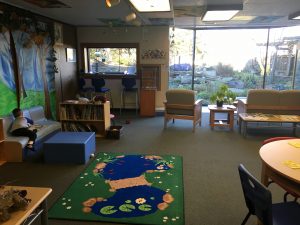 The Works: Ohio Center for History, Art & Technology in Newark: Like a mini-COSI, there are plenty of interactive exhibits for all ages focusing on

scientific, technological or artistic topics, driving simulators, invent lab to build and take apart, as well as a little kids area that features creative play with pretend produce and ice cream stands, puppet stage, science lab, firetruck, train table, and much more. There are also history and art exhibits and a few outdoor features including an Interurban Railway Car to check out. The size isn't overwhelming and you can check everything out and play in just a couple of hours. Kids 2-16 are $6 and adults are $10; COSI members get 1/2 off with COSI card via reciprocal benefits.  Closed Sunday and Monday, offers free Curious Kids programs on Tuesday at 10:30AM with crafts and other fun based around a theme.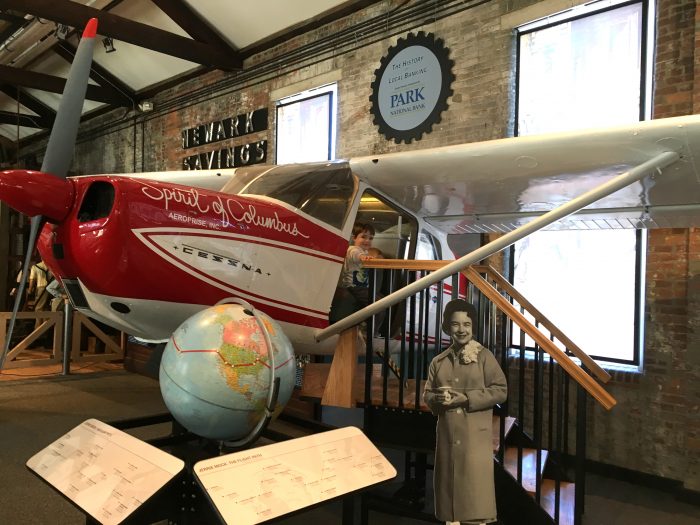 AHA! Children's Museum in Lancaster: 4,000 square foot, adventure space featuring more than 30 hands-on exhibits and activities for children of all ages! $6 per person, open Mon-Sat 10 am-4 pm, and on Sunday, November through March only 12-4 pm.
Little Buckeye Children's Museum in Mansfield: Exhibits in the arts, sciences, transportation, and imagination play for ages 2-12. See website for hours.  Admission is $8 for 2 and up.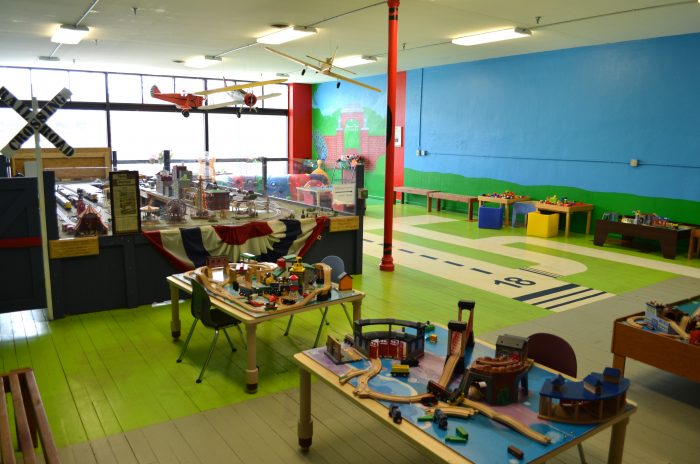 SPI Sciece Play Initiative in Mount Vernon: Non-profit, local play space with a focus on science and technology, located in the ​Kenyon College Wright Center (400 S. Main Street, Mount Vernon, Ohio). Open every day except Wednesday. Admission is $3; memberships (monthly and annualy) available. Free on Second Saturdays from 2:00-5:00 p.m. from December – April.  Free during Main Street Mount Vernon First Fridays from May through October.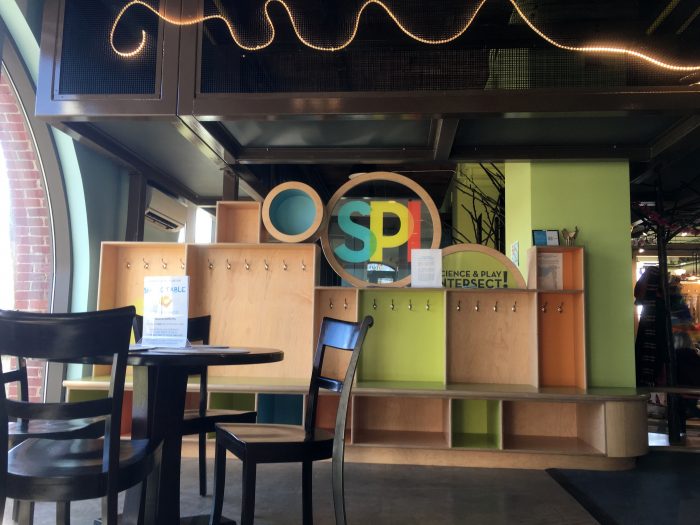 Mighty Children's Museum in Chillicothe: Creative development exhibits and stations while allowing for self-directed learning for building creativity, divergent thinking, problem solving, and the ability to innovate. Open Wednesday – Sundays; admission is $6. Exhibits are ideal for ages 8 and under.
Want more?  Sign up of daily email updates of upcoming events (one or less per day), and/or like our Facebook page to see updates there (just know that Facebook doesn't make every post visible to each follower).
Save
Save
Save
Save
Save
Save
When
Weekly on Saturday @ 4:00 pm-6:00 pm (starting April 14, 2018)
When
April 14, 2018 @ 6:00 pm-8:00 pm