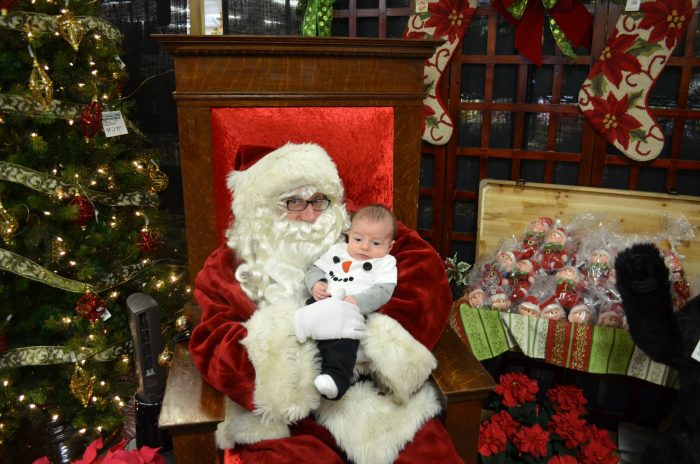 Santa makes his appearance all over Columbus for the holiday season. This list isn't anywhere near all-inclusive, as he's hard to keep track of, but here are some options for photos with Santa around Columbus Don't miss the section at the bottom for pet photos with Santa! Please leave a comment or email info@columbusonthecheap.com if you know of other photo opportunities.
Be sure to check out the pages with Holiday Events around Columbus and Cookies and Breakfast with Santa around Columbus. Dining with Santa events typically offer opportunities for photos with Santa, including candid and posed photos.
On-going Photos with Santa through the Season
Photos with Santa at Easton: November 17 – December 24. Your first 5×7 is just $5, or take a candid pic with your own camera for FREE. Monday-Saturdays: 10:00 AM – 9:00 PM (Breaks: 1:00 PM-1:45 PM and 4:45 PM-5:30 PM) and Sundays: 11:00 AM-7:00 PM (Break: 3:00 PM-4:00 PM). Christmas Eve: 9 AM – 5 PM. Virtual line so you don't have to stand and wait.
Oakland Nursery: Saturdays & Sundays only, November 25 – December 17 from noon to 3:30 p.m. at all Oakland Nursery locations. Take pictures with your own camera. Well-behaved, leashed pets are welcome at the Dublin location. Each store has different holiday events through the season.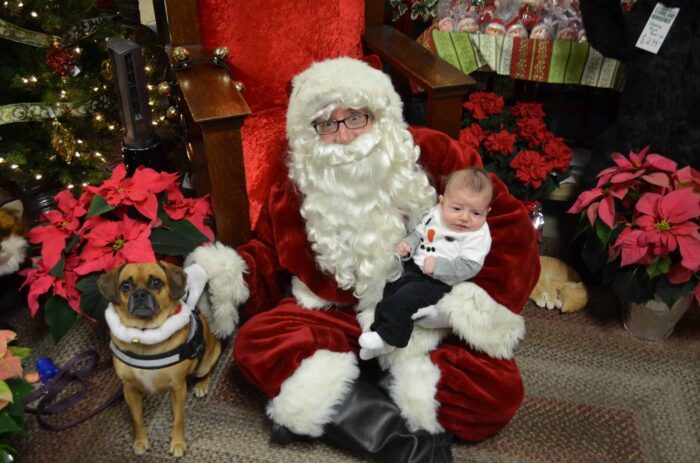 Wildlights at the Columbus Zoo and Aquarium: November 17 –  December 23.  Sunday-Thursday: 5:00PM-9:00PM Friday-Saturday: 5:00PM-10:00PM. In Battelle Ice Bear Outpost (through Dec. 23) kids can take a photo with Santa and  Mrs. Claus. One commenter complained about getting a bad picture (eyes shut), and it cost $15-$20.
Polaris Mall photo ops
Polaris Mall: Daily November 10 through December 24. Very real looking Santa. No personal photos allowed, but visits with Santa are free without photo. Packages start at $24.99 for a 5×7, 3×5, and 2 wallets – along with 3 personalized phone calls with Santa. ake reservations to skip the general line with Santa's Fast Pass.  Click here for details.

Nov 10th – Nov 22nd: Mon – Thur from 10am – 9pmm Fri – Sat from 10am – 9:30pm, Sun from 12pm – 6pm
Nov 24th – Nov 30th: Fri – Sat from 9am – 9:30pm, Sun from 12pm – 6pm, Mon – Thur from 10am – 9pm
Dec 1st – Dec 8th: Fri – Sat from 10am – 9:30pm, Sun from 12pm – 6pm, Mon-Thur from 10am – 9pm
Dec 9th from  9am – 9:30pm and Dec 10th from 11am – 7pm
Dec 11th – Dec 17th: Mon – Thur from 10am – 9pm, Fri – Sat from 9am – 10pm, Sun from 10am – 9am
Dec 18th – Dec 23th: Mon – Thur from 9am -10pm and Fri – Sat from 8am – 10pm
Dec 24th from 8am – 6pm

Sensitive Santa at Polaris Mall: Sunday, November 26 from 10:30 a.m.-noon. and Sunday, December 3 from 10:30 a.m.- noon  Sensitive Santa is an opportunity for families that have children with autism, children on the autism spectrum and children with other special needs to enjoy a special visit with Santa. Lower lighting and quieter. No reservations needed.
Paws & Claus Pet Photos with Santa: Sunday, December 10 from 7 pm – 8 pm.
Tuttle Mall Photos with Santa
Tuttle Mall: November 10 through December 24. Sundays are 11 am – 6 pm, Monday – Thursdays hours are 11 am – 8 pm, and Fridays and Saturday hours are 10 am – 8 pm (hours are extended in December).  Very real looking Santa. No personal photos without minimum package purchase. Multiple packages are available, starting at $24.99.  You can schedule your appointment online to skip the line.  Scheduling requires a $10 non-refundable deposit, which will be applied to your photo package.
Pet Photos with Santa at Tuttle Mall: Not yet scheduled for 2017. Dogs and cats are only permitted in the mall during Pet Photo Nights (with the exception of assistance dogs). The set is located near Macy's Hayden Run in front of Hallmark. Guests are asked to use the Food Court entrance.
Storytime with Santa: Not yet scheduled for 2017.
Caring Santa at Tuttle Mall: : Not yet scheduled for 2017.  Caring Santa provides a subdued and welcoming environment for children with special needs and their families to visit Santa.  They'll have sensory bins, activities, and refreshments too.
Eastland Mall Photos with Santa
Ohio Herb Education Center in Gahanna (110 Mill St.): December 9 and 16 from 9 a.m. – 1 p.m. Pictures, shopping, and homemade gift-making.  Cost: $5 per craft/photo or 3 items for $12.  Sensory-friendly visits with Santa on December 10 from 3pm – 5pm. Santa and his elves are ready to meet your child however you child is most comfortable during the sensory-friendly hours. The Herb Center has accessibility for wheelchairs or those with mobility issues. A limited number of appointments are available and the price includes a photo. Preregistration is required. Open registration for Gahanna residents or students of a Gahanna school until Friday, November 10. *Specify time options at registration. For more information contact 614-342-4250.
Cabelas at Polaris: November 24 (Black Friday) 2am – 5am Santa and his reindeer will be ready to take some late night or early morning photos.  November 25 from 10am-2 pm, November 26 from 12pm-4pm, plus December 9, 10, 16, 17 from 10am-2pm on Saturdays, and noon-4pm on Sundays.  Free photo with Santa in front of the fireplace. Each family gets a complimentary picture and can use their own camera for additional photos.
Lowes stores: Dates vary, so contact your local store. (pets may be welcome; varies per store). Sawmill location had a nice setup with Santa and Mrs. Claus last year. Take your own photos.
Santa in Marysville
Santa's House in Downtown Delaware: Fridays and Saturdays, December 2 through December 22 at the Strand Theatre.  Fridays from 6 – 8 p.m., Saturdays from 1 – 3 p.m.
Santa Train at Nelsonville Depot: Saturdays and Sunday November 25 – December 17. Each train departs Nelsonville round trip for about 20 miles and lasts approximately two hours. Reservations are strongly suggested as trains often sell out. Santa visits each child as the train rolls along the valley. Each child also gets to enjoy a candy cane treat after Santa's visit. Each coach is decorated, heated, and plays Christmas music. Adult: $17, Child: $13, Senior: $15
Santa's House during Fantasy of Lights at Alum Creek: Each night through December 23 during the drive through light show at Butch Bando's Holiday Fantasy of Lights. Take your own photos for $5, or pay $5 to have one taken and emailed, or $10 to have a 4×6 printed before you leave.
Worthington Mall: Dates not announced for 2017
One-time events and festivals with Santa Photo Ops
Annual Holiday Gift Fest & Craft Show for Linworth Children's Center: November 10-11. 60 vendors and crafters, plus bake sale, lunch, and more on November 10 from 3pm – 7pm and November 11 from 9am – 2pm. Games and activities from 5pm-7pm Friday and a visit from Santa from 10am-12pm Saturday
Easton Holiday Lighting Ceremony: November 17 at 6 p.m.  Carriage rides, photos with Santa, and holidays sales and activities
Short North Deck the District Holiday Tree Lighting Celebration: November 17 from 6 – 8 p.m. in Poplar Park festive tunes with Columbus Chorus Sweet Adelines, photos with Santa, the official tree lighting.
Picture an Old-Fashioned Christmas at Hanby House: November 18 from noon-4:30 pm (No Santa, just holiday photos) Create a holiday keepsake by having your family photo taken in the decorated parlor of Hanby House, the family home of Benjamin Hanby, who later wrote the holiday favorite Up on the Housetop. Wear your own holiday finery or use available Civil War period costumes. Sitting fee of $30/group (up to eight people) ($27/Ohio History Connection member group of up to eight people). Photos are saved to a souvenir flash drive included in the price. Photos can be made into greeting cards or framed photos. Reservations are recommended; walk-ins will be accommodated. Make reservations starting Oct. 1 at 614.891.6289 or 800.600.6843 or by email at hanbyhouse@yahoo.com.
The Magical Santa Experience with Darryl Walters Photography: Appointments available November 18 From the website:  "Santa focuses on your children, interacting with them so we can capture magical images that will last a lifetime. We do not pose your child, the magic just happens as they interact with Santa one-on-one. It is a Magical Experience that will bring you back to your inner child. We do not use a manufactured set, we use a real world authentic location for the Experience. This year Santa will be in a Historical One Room School House".  Cost is $80-$200, as this is a photography session, rather than just photos with Santa.
Christmas at Lynd Fruit Farm: November 19 from 11a.m. – 4 p.m. we will have S'more wagon rides, FREE kids craft, and SANTA will be making a special appearance! Local food trucks will be there, including Tortilla Street Food, Poppy's Roadside Diner, The Bouncin' Bean Coffee & Tea Co., & Waffle Joy!
Gahanna Holiday Lights Celebration: November 19 starting at 2 p.m. with family fun, Santa, and more
Worthington Holiday Open House and Tree Lighting: November 26 from noon – 7 p.m.
Swim with Santa at Westerville Community Center: November 26 from 6-7:15 pm. Get your photo taken with Santa as he swims in the pool with the lifeguard elves! Photo and Santa time is included in this fun annual event for ages 0-11 and parents. Parents with children under 6 years old must be in the water with their children. Please include your email address when registering, all photos will be emailed. Pre-registration required. $7.50 to swim, $5 for residents.
Marysville Uptown Christmas Walk: November 27 from 5-8 p.m.  Free, family-friendly festival featuring Santa, carriage rides, live nativity, holiday dancers, and the Christmas Tree Lighting at 6 pm.  Shops will be open and many will be offering refreshment and discounts.

Winter Festival and Tree Lighting Ceremony in Upper Arlington: Friday, December 1, from 6 p.m. – 8:30 p.m. Caroling, carriage rides, bonfire with s'mores, visits with Santa and UA's tree lighting ceremony.
Holiday Open House in Delaware: December 2 from 12 – 4 p.m.  Downtown businesses will offer treats and treasures, ice skating will be available, and Santa's Village is open from 1-3 for photos with Santa.
Holly Days in Dublin: December 2 from 11 a.m. – 7 p.m. in Historic Dublin. Family activities including Irish elf pictures, Irish holiday momentos, a Holiday photobooth, and Irish Christmas in Dublin at Ha'Penny Bridge Imports of Ireland. 12 Elves of Dublin Hunt, Touch-a-Truck, Photos with Mr. and Mrs. Claus at Our Cupcakery, Free Hot Chocolate from Starbucks, and more.
Santa Celebration at Hilltop Library: Join the Columbus Metropolitan Library Hilltop Branch for a Santa Celebration on December 2 from 3-4 pm.  Join us for stories and fun celebrating the world's jolliest elf. After the program, stick around for free pictures with Santa!
Ohio Statehouse Tree Lighting and Holiday Festival: December 7 from 5:30 – 7:30 p.m.; Free, family-friendly holiday festival including Santa and Mrs. Claus, the lighting of the Statehouse and trees, and more! Free photo station and Santa and Mrs. Claus after the Tree Lighting.
Santa at Grandview Heights Library: December 9 from 11 a.m. – 12 p.m. Photos with Santa and holiday activities. Tickets are required, but are free and must be picked up beginning 12/2.
Pet Photos with Santa
Looking for other Christmas events in Columbus?  Check out these links.