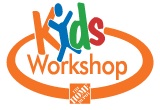 Bring the kids to Home Depot Free Kids Workshops for children ages 5 – 12 on the first Saturday of each month between 9 a.m. and noon.  These how-to clinics aim to teach kids how to create useful and educational projects, while emphasizing tool safety.  All supplies are provided and kids will receive an orange apron to take home, along with the completed project and an achievement pin.
Saturday, October 4, 2014 – How to Build an EMS Truck
Saturday, November 1, 2014 – How to build a Pallet Coaster
Saturday, November 29, 2014 – How to build a Give and Save Bank
Find you nearest Home Depot here and get the kids out of the house this winter to build some things!