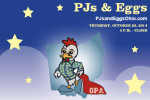 Ohio Egg Marketing Program and Ohio's Egg Farmers have team up with local breakfast restaurants to create a fun event to benefit Nationwide Children's Hospital.  PJ's and Eggs is perfect for those who love breakfast for dinner!
On Thursday, October 23, 2014 from 5 p.m. – close*, several Columbus restaurants that are usually only open for breakfast and lunch will re-open to serve diners' favorite breakfast menu items for dinner.  Even better, every diner is encouraged to bring a pair of NEW pajamas – sized newborn to 12 years – to donate to Nationwide Children's Hospital and to wear their favorite family-friendly PJs to dinner.  Those who donate pajamas will receive a dozen free Ohio eggs and a chance to win gift certificates and other great prize giveaways!
The pajamas will be given to patients at Nationwide Children's Hospital so they can be more comfortable while in the hospital.  If you can't make it to the event, pajama collection boxes will be available in all participating restaurants for several weeks in advance of PJs and Eggs. Monetary donations will be accepted as well.
Don't forget to wear your jammies!
The restaurants that will be ready to serve you breakfast for dinner on October 23 are:
Beechwold Diner
4408 Indianola Ave.
Columbus, OH 43214
Café Creekside
53 Granville St.
Gahanna, OH 43230
Gena's Restaurant
5947 Sunbury Road
Westerville, OH
Jack & Benny's
2563 North High St.
Columbus, OH 43202
Lilly's Kitchen Table
4008 Broadway
Grove City, OH 43123
Sunny Street Café – Six Central Locations
5481 New Albany Rd.
New Albany, OH 43054
2788 London Groveport Rd.
Grove City, OH 43123
7042 Hospital Dr.
Dublin, OH 43016
7573 Sawmill Rd.
Dublin, OH 43016
644 North State St.
Westerville, OH 43083
277 Nationwide Blvd.
Columbus, OH 43215
*closing time will vary between restaurants, so call ahead if you aren't sure