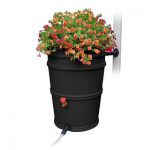 Those in Franklin County can go green with the GreenSpot Community Backyards program.  You can get a $50-$100 rebate on the purchase of a rain barrel, compost bin, native trees and plants and help keep your environment more green and healthy.
Watch a short course online and take a quick quiz, or attend an in-person workshop to qualify, and then just mail in your voucher, receipt, and photo of installed item for your rebate.  If your adding to your landscaping anyway, you might as well get a rebate, and if you really want to green up your house, a rain barrel and compost bin are both easy to set up and maintain.  We've had ours for several years and they require very little attention, and the water collected and the soil created are excellent for your landscaping and gardening needs.
The GreenSpot Community Backyards program is available to City of Columbus residents, participating municipalities, and Franklin County residents who register to be a City of Columbus GreenSpot member.  See the chart here to find out the details of your rebate based on your tax district.  The rebate program does re-start each year, giving residents that participated and received a rebate in 2015 an opportunity to explore another conservation method in their backyard year after year. Rebates are limited to one reimbursement per address per year.
Not sure which district you fall under? We verify your address online through The Franklin County Auditor and use your tax district to find out what you would qualify for. For any other questions, please call (614) 486-9613, ext. 111.
It's not too late to sign up for the GreenSpot Rain Barrel Program to receive your a rain barrel for $55.
Why would you want this?
Rain barrels help reduce flooding, streambank erosion, and water quality problems in your neighborhood.  You'll conserve water and save money on your water bill by using your collected rainwater to water plants, flowers, and trees with natural rainwater that is free of additives (unlike tap water). (We have this rain barrel in terra cotta color – also available at Home Depot). Compost bins create nutrient rich soil for your plants and garden from your food and yard scraps – for free!  If you follow instructions for adding material, you'll have a smell and bug-free compost bin that will yield rich soil in 6 months to 1 year.  (I recommend this spinning composter). Native trees and plants provide beauty, food for pollinators and birds, and the trees can provide shade and/or windblock, which may help keep your house cooler in the summer and warmer in the winter.
Check out the website for more details and to register!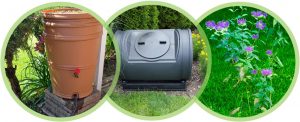 Save