Stay up-to-date with which splash pads are open in Columbus! There are 15 splash pads and water play areas in the city, but many have not announced reopening plans.
Most splash pads in Columbus are free! Splash pads are an easier way to cool off than going to a swimming pool, and are perfect for younger children and kids of various swimming abilities.
Don't forget to pack a bag with sunscreen, towels, and snacks (don't forget drinks!). The kids will play so hard that they'll be hungry and thirsty once they finally stop!
Check the links below for opening dates unless listed. Occasionally, splash parks will be closed for maintenance, weather-events, or events at the parks, so check the links below before you go.
Splash pads open in Columbus 2021
Hilliard Station Park
Where: Hilliard Station Park, 4021 Main St, Hilliard, OH 43026
When: Opens May 10, 2021. Typically open daily from 8 am – 10 pm, from May to October, but fountains turn off at 3 pm on special event days.
Details: Pack a picnic or head to a nearby restaurant. Social distancing required.
Website
Partners Park Splash Pad
Where: 125 E. Sixth St., Marysville
When: Open daily starting May 29 from 12 pm – 6 pm
Details: Restrooms at Partners Park are open. Maximum occupancy is 10. Patrons will sign-up (on site) to use the splash pad for 15 minute periods. Splash Pad staff will notify patrons when a period has ended and new one begins. Please note that the splash pad will be closed daily from 2:30 pm to 3:00 pm for staff break and sanitation. Note: precautions from 2020; details may change for 2021.
Website
Splashpad at Whitehall John Bishop Park
Where: 4815 Etna Road
When: Opens Sunday, May 29, 2021.
Details: The person making the reservation must be a Whitehall resident, must show proof of address at arrival, and must be present during the reservation. Each household will be assigned one (1) table and one (1) restroom for use during their stay.
Website
Obetz Splash Pad
Where: 4390 Lancaster Avenue 43207 Obetz, OH
When: Memorial Day – Labor Day; Monday – Sunday from 11 AM – 7 PM
Details: Splashpad is only open to kids 12 and under. Individuals under the age of 12 must be accompanied by someone who is 16 years of age or older. Individuals that are 13 years of age or older may enter the Splash Pad if supervising children 6 years of age and under or an individual with special needs. Call 614-409-4409 with any questions.
COST: The Splash Pad is free to residents. The fee for non-residents for the 2021 season is to be determined.
Additional safety: Capacity is 55; no daycare groups, camps or parties. Household groups limited to 10. Bring your own chair; picnic tables have been removed. Everyone should maintain distance from others.
Website
TBA for 2021 – expect updates in early May 2021
Splash Pad at Plain City Aquatic Center
Where: 213 S Chillicothe St, Plain City, Ohio 43064
When: Open and free to the public before and after pool hours from 8am-10:45am and then from 8pm-10pm, 7days per week.
Details: The Pool is open (registration required) and splashpad will be a part of pool admission during pool hours.
Polaris Fashion Place
Where: 1500 Polaris Parkway ,Columbus, OH 43240. In the Polaris Lifestyle Center open mall area near Cheesecake Factory and Cantina Laredo
When: tba for 2020
Details: Tons of food options nearby, easy mall parking
Extras: KidX Club hosts events on Fridays during the summer from 10:30 am – noon with characters, crafts, Sunny 95 and more.
Easton Town Center Pop Up Fountains
Where: 160 Easton Town Center, Columbus, OH 43219
When: Fountains are on, but not operating as a splash pad yet. tba for 2020
Details: Tons of food options nearby, park in Easton garages or surface lot near Barnes and Noble/NorthStar Cafe
Extras: Easton provides towels for your kids to dry off on Saturdays (10am – 5pm) and Sundays (12pm – 5pm) through the summer.
Scioto Mile Fountains
Where: Civic Center Dr Columbus, Ohio, OH 43215
When: TBA for 2020. Schedule changes are usually posted on the Facebook page. Fountains turn off during high winds and lightening. Typically open April – October.
Details: Limited food options (occasional vendors and Milestone 229). Plenty of grassy area for a blanket and picnic. Meter parking and parking lots nearby; be sure to check signs for parking restrictions/fees.
Extras: Fountains are illuminated with colored lights and fog effects in the evening.
Westerville Hanby Park Spray Ground
Where: 115 E Park St, Westerville, OH 43081
When: TBA for 2020.
Details: In addition to the spray ground, you'll find a play tower, accessible swings, shaded swinging benches
North Bank Park
Where: 311 W Long St, Columbus, OH 43215
When: TBA for 2020 once Columbus Recreation and Parks reopens splash pads. No specific hours as it's closed to the public during special events (weddings are held there frequently).
Details: Small fountain is great for small children. No nearby food options, but plenty of seating and shade
Extras: Beautiful view of the Scioto River and Downtown Columbus
Powell Splash Pad
Where: 47 Hall St., Powell
When: Closed until further notice. Typically open from 9 am – 9 pm Memorial Weekend to Labor Day Weekend
Details: Bring a picnic to enjoy in the shaded solar picnic pavilion or on a blanket in the grass. Plenty of parking in the lot for Village Green Park.
Extras: Nearby playground when the kids have enough of the water.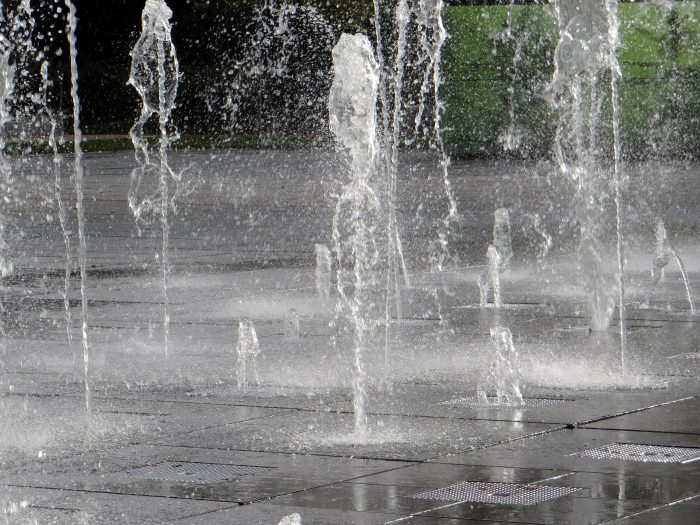 Ballantrae Community Park Spray Fountains
Where: Ballantrae Community Park, 6350 Woerner Temple Rd
When: TBA for 2020. Typically open from Memorial Weekend through early October from 10 a.m. – 8 p.m.
Details: Bring a picnic and a blanket and enjoy the day.
Extras: Known as the Dancing Bunnies Fountains, you'll find the sculpture of the 3 bunnies up on the hill.
Worthington Pools Lagoon Splashpad
Where: 400 W Dublin Granville Rd, Worthington OH
When: tba for 2020
Spray and Play at Veterans Park
Where: 1121 S. Houk Rd, Delaware
When: tba for 2020
Details: Fun dinosaur-themed splash pad with playground nearby
City of Delaware Facebook page or website
Barnett Community Center Sprayground
Where: 1184 Barnett Rd, Columbus 43227
When: TBA for 2020 once Columbus Recreation and Parks reopens splash pads.
Blackburn Community Center Sprayground
Where: 263 Carpenter St, Columbus 43205
When: TBA for 2020 once Columbus Recreation and Parks reopens splash pads.
Indian Mound Community Center Sprayground
Where: 3901 Parsons Ave
When: TBA for 2020 once Columbus Recreation and Parks reopens splash pads.
Details: Bring a picnic – the park has lots of shade, outdoor fitness center, basketball and tennis courts, and more.
Looking to swim instead? There are a few pools open to the public in Columbus and Central Ohio.
Get Memberships now! Outdoor Public Pools in Columbus open for 2021
Other articles of interest