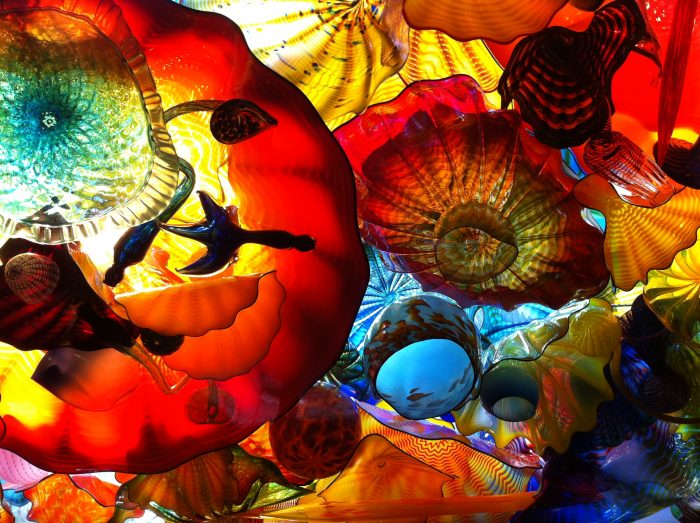 Franklin Park Conservatory hosts Family Fun Days on weekends and select weekdays to keep the kids entertained through the year.  While you're there, check out the beautiful and festive Gardens Aglow (until January 3) followed by Orchids: Utopia beginning on January 13 at the Conservatory.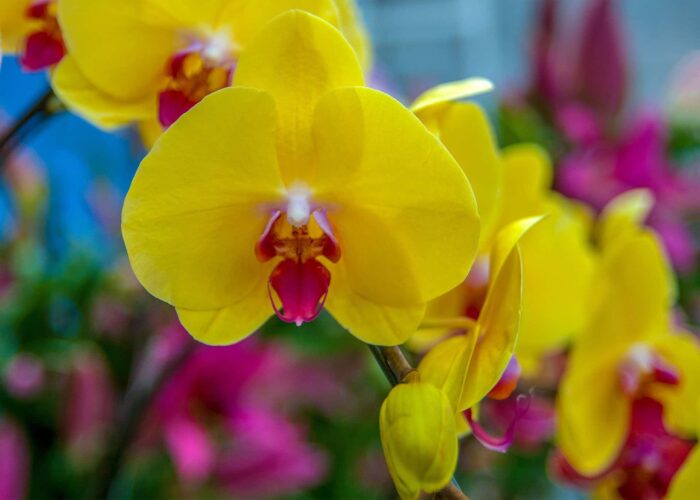 Don't miss these upcoming Family Fun Days (free with admission, unless noted for art and activities).
Thursdays, 10:30–11:30am: Little Adventurers  Parents and children explore a new topic each week with hands-on activities, a craft, story time or tour. Suitable for ages 3–5. Free with admission.
Second Sundays with the Columbus Zoo, 2 pm: Family friendly presentations feature different animals each month.
January
Saturday, January 13, 11am – 2pm: Family Fun – Bottle Art. Celebrate the opening of Orchids: Utopia by creating your own enchanting mini sensory bottle. $2 per bottle.
Monday, January 15, 11am – 3pm: Family Fun – Crystal Clear Science presents Weather Wonders. Sun, air, water…. and so much more. Come experience air pressure, lightning and thunder through amazing live experiments. Performances at 11am & 2pm. Free with admission.
Saturday, January 20, 11am and 2pm: Family Fun – Traditional Polynesian Dance. Escape the cold weather with a trip to the tropics! Manivic's Dance Company performs traditional Polynesian dance in the John F. Wolfe Palm House. Free with admission.
Saturday, January 27, 11am – 2pm: Family Fun – Paper Orchid Craft. Design your own paper orchid based on varieties on display in Orchids: Utopia.
Sunday, January 28, 10am – 12pm: Family Fun – Celebrate Tu B'Shevat! The Jewish New Year for Trees. Design a tree cookie necklace and search for unique trees on a scavenger hunt through the Conservatory. PJ Library's Alyssa Russell presents stories celebrating trees and nature. Story times at 10:30am and 11:15am.
February
Saturday, February 3, 11am – 12pm: Family Fun – Ohio Wildlife Center presents Groundhog and Friends.  Wondering if spring will come early this year? Meet an ambassador groundhog and ask him yourself! Learn all about the "woodchuck" and some of his wild friends during this live animal presentation.
Saturday, February 10, 11am – 2pm: Family Fun – Watercolor Valentines. Seek inspiration from the multimedia ink drawings by local artist Julia Hamilton on display in the Cardinal Health Gallery. Create your own multimedia watercolor valentines.
Saturday, February 17, 11am – 2pm: Family Fun – The Bubble Lady. Have you ever seen a person inside a bubble? Now you can! Watch Sue, The Bubble Lady, blow amazing bubble creations.
Monday, February 19, 11am – 3pm: Family Fun – Columbus Children's Theater presents The Snow Queen. Do you love Disney's Frozen? Columbus Children's Theater presents The Snow Queen, Hans Christian Andersen's classic fairytale about the power of true friendship that inspired the fan favorite film. Performances at 11am and 2pm.
Saturday, February 24, 11am – 2pm: Family Fun – Orchid Elements Collage. Use imagery featuring orchids and the natural elements—earth, air, wind and fire—to create a fantastical collage.
March
Saturday, March 3, 11am – 2pm: Family Fun – Cloud and Sky Windsock. Create a colorful windsock craft inspired by the changing colors of the sky.
Saturday, March 10, 10am – 2pm: Family Fun – Blooms & Butterflies Opening Day. Celebrate the return of butterflies at the Conservatory! Watch butterflies of every color take their first flight in the Pacific Island Water Garden. Explore the Conservatory on a color-themed scavenger hunt to create a rainbow necklace.
Admission to the Franklin Park Conservatory is $15 for adults, $12 for seniors and students, and $8 for children 3-17 (free under age 2). Free admission is available on the first Sunday of the month, 10am–5pm, for families and individuals in eligible programs with proof of participation. Visitors must show a photo ID plus one of the following forms of ID at the Visitor Center: Ohio Directions card, Medicaid card, W.I.C. card, Molina card or Care Source Options.
Love to explore the various exhibits and events throughout the year?  An annual membership would be worth the cost, as they range from $45 – $110.  Student and Senior (60+) memberships are just $35, and the $30 Access pass is for families who are eligible for benefit programs.
Hours:
Daily 10am–5pm
Franklin Park Conservatory
1777 E Broad St
Columbus, Oh 43203
Looking for other free or cheap craft options for kids?
Save
When
Weekly on Thursday @ 10:30 am-12:30 pm (starting May 18, 2017)
Where
Franklin Park Conservatory and Botanical Gardens
When
Weekly on Saturday @ 11:00 am-2:00 pm (starting May 20, 2017)
Where
Franklin Park Conservatory and Botanical Gardens
When
Monthly on the 2nd Sunday @ 2:00 pm-3:00 pm (starting June 11, 2017)
Where
Franklin Park Conservatory and Botanical Gardens
When
January 28, 2018 @ 10:00 am-12:00 pm
Where
Franklin Park Conservatory and Botanical Gardens
When
February 19, 2018 @ 11:00 am-3:00 pm
Where
Franklin Park Conservatory and Botanical Gardens
Franklin Park Conservatory and Botanical Gardens
1777 E Broad St
Columbus, OH 43203
614-715-8000