Franklin Park Conservatory features a whole schedule of holiday fun each season, with Conservatory Aglow as the main attraction.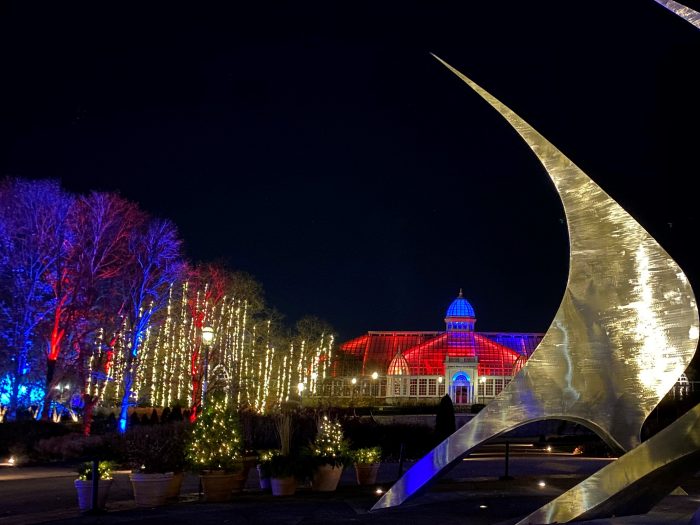 Conservatory Aglow returns this holiday season with both new and classic displays to shine a light on Franklin Park Conservatory and Botanical Gardens. This holiday lights exhibition runs from Saturday, November 14, 2020 – Sunday, January 10, 2021.
The daytime experience, Holiday Blooms, will be open 10am-4pm, while the evening experience, Conservatory Aglow, will be open 5-9pm. Capacity is limited and reservations are strongly recommended. Popular ticket times will sell out.
Holiday Blooms
The inside of the Conservatory will be filled with holiday magic. Delight in extravagantly themed vignettes featuring hundreds of colorful, unique poinsettias and our famous 10' poinsettia tree. Wintry container garden collections can be found outside in the botanical gardens as you make your way to the lit up Paul Busse Garden Railway.
The Paul Busse Garden Railway is now a full-scale exhibition that has been transformed into a holiday destination decorated with glowing lights.
Holiday Blooms is included with general admission and are only display through January 10, 2020. Tickets are available to reserve online now; reservations are highly recommended.
The Conservatory will close from 4-5 for cleaning. Due to limited capacity, reservations are strongly recommended, as popular days and times will sell out.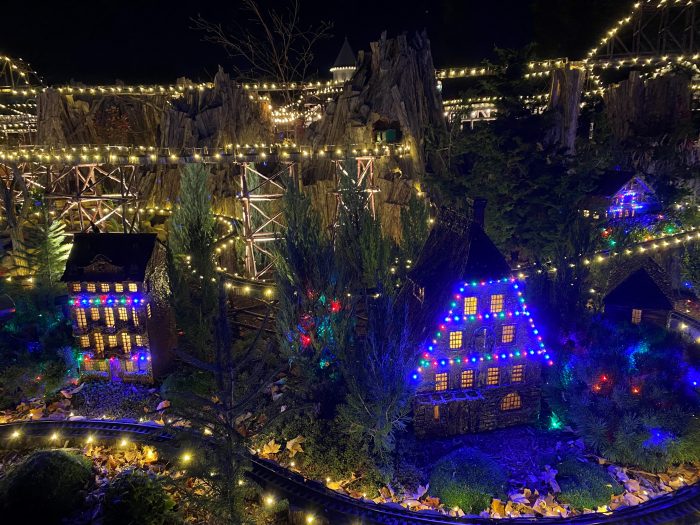 Conservatory Aglow
The outdoor Conservatory experience will be twinkling, glowing, and magical thanks to thousands of lights presented in stunning displays. New this year is a Candyland scene complete with a life-size gingerbread house and the magical train display, Paul Busse Garden Railway. The light show in the Scotts Miracle-Gro Foundation Children's Garden will be set to music.
Regular favorites such as the Rainbow Tunnel, the Whirly Tree, and Ornament trees return for 2020. See how the Paul Busse Garden Railway transforms for the season.
Within the Conservatory, the interior courtyards will feature two themed light displays: Winter Wonderland and Starry Night.
You'll be able to roam the entire facility during Conservatory Aglow, so you'll enjoy all of the exhibitions throughout the property. Check out the holiday vignettes and poinsettias of Holiday Blooms in the Dorothy M. Davis Showhouse or the 14th Annual Gingerbread House Competition in the Grand Atrium. Every night, Light Raiment II projects a rainbow of colors onto the historic John F. Wolfe Palm House, and 19 installations of Dale Chihuly glass are placed throughout the interior of the Conservatory.
Conservatory Aglow is an after-hours special engagement and is not included with general admission.
Special Engagement Admission Rates for Conservatory Aglow
Conservatory Aglow Evening Admission Rates (5-9pm)
General Admission (ages 13–59): $22
Seniors (ages 60+): $19
Children (ages 3-12): $12
Conservatory Aglow Evening Member Rates (5-9pm)
Member (ages 13–59): $11
Member (ages 60+): $9.50
Member (ages 3-12): $6
Members can view Conservatory Aglow for free on Nov. 16, 17 and 18.
The Conservatory is closed all day on Thanksgiving and Christmas, and closes at 4pm on Christmas Eve.
Following state and local mandates, visitors over the age of 6 years old will be required to wear a face covering indoors and outdoors.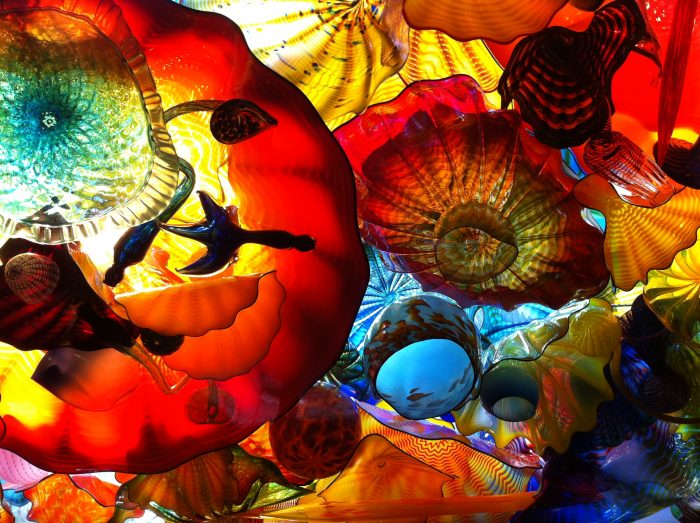 Holiday Performances and Exhibits
From 6-8pm on select evenings, musicians, ice carvers, dancers and more will put on roaming or walk by performances.
Santa Claus will stop by on Dec. 19th and 20th with a dropbox for gift lists and to take care of his reindeer.
Annual Gingerbread Competition and Display
Consider yourself a gingerbread architect? Enter the Conservatory's 14th Annual Gingerbread Competition. This year's theme is "Inspired by the Conservatory" in honor of the 125th anniversaries of the John F. Wolfe Palm House and Dorothy M. Davis Showhouse. Guests can view the creations during Holiday Blooms and Conservatory Aglow from December 1-31, and vote on their favorite! Click here for details.
Holiday Performances at Franklin Park Conservatory
Let the music of the season bring cheer to your Holiday Blooms experience on select Saturdays in December with Roaming Holiday Performances. All performances will begin at 2pm and will roam the interior of the Conservatory for an hour, providing a background of musical entertainment. No audience seating will be provided for these performances. All performances are included with admission.
Saturday, Dec. 5th: Promusica Quartet
Saturday, Dec. 12th: Clemens & Elliott
Saturday, December 19th: Four Harmony's Sake
Sweet Turkeys Virtual Program
Sign up for this virtual experience from November 21-28. Three activities include a story about the turkey that got away, making a turkey shaped cookie, and a turkey inspired craft. The video will be available online starting November 21; details here.
Graham Cracker Gingerbread House Kits
There won't be an opportunity to build gingerbread houses on site this year, but you can pre-order a graham cracker gingerbread house kit to build at home. The $7 take-home kids will include all of the supplies you need and must be pre-ordered by Friday, November 20th. Pick-up will be on Friday, November 27th and Saturday, November 28th. It will be located at the East Carriage Path gate off the main parking lot, near the Scotts Miracle-Gro Foundation Children's Garden. Admission not required. Pre-order your kit here.
Shop at the Botanica Gift Shop & Greenhouse
The Botanica Gift Shop features plenty of great gifts, including nature-themed decorations for the home, as well as unique plants, pottery, terrariums, stationery, jewelry and children's toys and books. Open daily from 10 am – 5 pm, with extended hours on select days. Members always get 10% off. Pop-up sales listed below!
November 4-21: Clearance sale – 75% off all merchandise on the clearance table
November 4-21: Fall Home Decor – 20% off all fall home decor
November 4-21: Glass Pumpkins – 20% off remaining glass pumpkins
November 14-15, 10am-9pm: Jewelry Sale – 10% off all jewelry for non-members, 20% off for members
November 27: Black Friday Special – 10% off any holiday tree ornaments for non-members, 20% off for members
December 6, 10am–9pm: Happy Hannukah Sale – 20% off all Hanukkah items
In-person art and gardening programs
A select number of art, culinary, and gardening programs for adults are available virtual and on-site at an additional fee. See the options on the calendar. These make great gifts!
Admission to the Franklin Park Conservatory
Regular admission for 10 am – 5 pm (4 pm during Conservatory Aglow)
$19 for adults (ages 13-59)
$16 for seniors (60+)
$12 for children (ages 3-12)
free under age 2.
Franklin Park Conservatory discounts
Community Days at the Conservatory: On the first Sunday of each month, the Conservatory will be free for residents of Franklin County and the City of Columbus during regular operating hours of 10am to 5pm. January 3, February 7
Columbus Member Advantage discount: Members of select attractions and museums in Columbus will receive a $3 discount at Franklin Park Conservatory through the Columbus Member Advantage program. Partners include: Columbus Museum of Art, Columbus Zoo and Aquarium, Franklin Park Conservatory and Botanical Gardens, LEGOLAND® Discovery Center Columbus, Ohio History Center & Ohio Village, National Veterans Memorial and Museum, Pizzuti Collection, Wexner Center for the Arts.
Educator, Military & Student Discounts: Take 10% off any membership category if you are a full-time, active educator or an active or retired military personnel. Present current teacher or military identification at the Visitor's Center to qualify for this discount. Students (with valid ID) receive 10% off the Individual membership.
FPC passes at the Library: Conservatory Membership Cards are available for checkout at the Martin Luther King and Shepard branches of the Columbus Metropolitan Library. With an active library card, patrons can check out a temporary Conservatory membership card that will grant up to two adults and six children free admission to the Conservatory for 2 days.
Access Pass discounts: The Conservatory provides special discounts to qualifying families to make programming and special events avaialble to all. See website for specific discounts
Franklin Park Conservatory
1777 E Broad St
Columbus, Oh 43203
photo via Franklin Park Conservatory
Need more holiday fun in Columbus?
Save
Franklin Park Conservatory and Botanical Gardens
1777 E Broad St
Columbus, OH 43203
614-715-8000