Local gifts for Black Friday weekend only
Local goods that make great gifts
Apparel: Whether you're looking for Columbus-themed shirts, or just something made locally in Columbus, Homage is your place.  Order online or stop in at one of the stores.  There are so many options, and their t-shirts are so, so soft.  From sports, pop culture, colleges, and city themes (and so much more), you'll find something for everyone. They have holiday deals and $10 bonus bucks for $50 purchases.  New customers can use this referral link to get $20 off with a $40 purchase (I get a credit too)
Beverages: Whether beer, wine, or liquor is the beverage of choice, there are TONS of local drink options.  Rather than try to list them here, just check out these directories from Drink Up Columbus.  They know what they're talking about.
Wine on High is offering lots of holiday gift options, including 3, 6, 12- month wine club memberships, wine baskets, tasting passes, and gift card specials.
Coffee: Yes, coffee could be under beverages, but I think it deserves it's own mention. People in Columbus loooove coffee, as evidenced by the great local coffee shops in the city.  Pick up a pound of coffee, some accessories, or some treats, and your recipient will be thankful for the morning salvation of good coffee.  Columbus Coffee Experience website has a great list of coffee shops around the city where you'll find good coffee to gift.  There's even a Columbus Coffee Trail that you can travel to earn a free tshirt.
Ice Cream:
Jeni's Splendid Ice Cream: The gift of Jeni's Ice Cream is ALWAYS a good idea (and it ships if you need!), but if you purchase through Cyber Monday.  Head to scoop shops or online through November 27 and purchase 4 pints and get 2 free.  The only problem I see with purchasing Jeni's Ice Cream as a gift is that it'll be tough to keep it in your freezer without eating it yourself!  Jeni's Ice Cream would make a perfect Secret Santa gift, teacher gift – or let's face it…gift for anyone.  Want to take the gift to the next level?  Include a Jeni's gift card or salty caramel sauce, or an ice cream scoop from this brand, which was recommended by Jeni herself.
We can't leave Graeter's Ice Cream off this list, because there's always room for more ice cream.  Graeter's offers instore and online purchases, as well as gift packs, merchandise, chocolates, and other sweets.
Local experiences for gifting
Movie Tickets: Pick a theatre nearby for them to enjoy a movie or two.  Don't forget about great local theaters such as Studio 35, Drexel, and Grandview Theatre.
Concert Tickets: Music lovers would be thrilled with tickets to see a great concert.
Sports tickets: There are plenty of sporting events around the city, including Columbus Blue Jackets, Columbus Clippers (very affordable), Columbus Crew (for at least one more season), Ohio Roller Derby, and all Ohio State sports.
Theatre Tickets: CAPA Theatres offer tons of great plays, musicals, concerts, comedians, and shows for all ages at various price points through the year.  Check to see if the current season offerings are anything that would make your recipients wish list.
ZipZone Tours: This adventure destination features hands free, guided zip line tour in the treetops at Camp Mary Orton in North Columbus.  There are a variety of adventure options to choose from, including ziplines and climbing, and they even offer a kid-friendly tour for ages 4-7. They are currently offering holiday specials on gift cards for a limited time.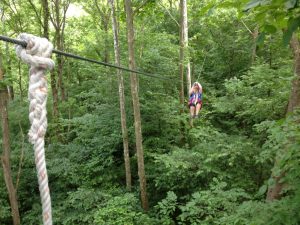 Painting classes: Studios include Wine & Canvas, The Party Studio, Studio 614, Color Me Mine and more. These are also often held at local wineries, so check with your favorite to see if there are any upcoming events!
Escape Rooms in Columbus: The Chamber Escape Room, Lockdown Columbus, Trapped Columbus, Room Escape Columbus, and more – if you have any to recommend, I'd love to add them to the list!
Tickets to the Price is Right Live at Ohio Theatre.  Show is not televised, but has all the fun of the tv show for game show lovers.
Shadowbox Live tickets make a great gift for local comedy and Saturday Night Live fans, as the sketch comedy reminds me of SNL.  Shows are definitely geared towards adults for some mature content, but holiday shows are toned down.
Trampoline and Bounce Parks: Get Air Columbus, Sky Zone, World of Bounce, Rockin Jump, and more.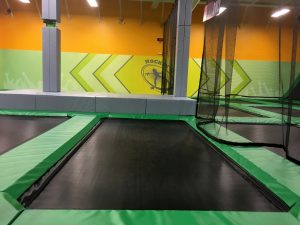 Spa day: Gift cards for a mani, pedi, massage, or hair services are always appreciated.
Classes and Lessons: Whatever your recipients' interests are, there's a class for that around Columbus.  Fitness, painting, sports, glass blowing, photography, writing, cooking, sewing and crafts, cake decorating, home improvement, self defense…the options are nearly limitless and impossible for me to list.  Do an internet search for the "desired activity + local area", or check local community centers, and you're sure to find a few choices.  Great options for kids are gymnastics, piano, acting, cooking, swimming, and whatever else their little hearts will enjoy.
Local season pass gift ideas
Season passes are the gift that keep giving.  Not only does the gift last for several months to a full year, they are the gift of an experience, which is more valuable to most than just stuff.  Whether it's a gift for a whole family, or just an individual, they will appreciate the thoughtfulness that you took to choose a pass that they will enjoy, and will think of you when the use it.  These gifts can be a bit more expensive, but the value is worth it when choosing a bigger gift.  If the season pass is out of your price range, purchase a one-time use pass instead.  Attractions often offer specials during the holiday season, so be sure to ask, or look around the websites.
Columbus Zoo & Aquarium: Several membership options are available and memberships typically pay for themselves within 2 visits and include special discounts and other benefits.
Zoombezi Bay: Any water park lover will be thrilled with a season pass to Zoombezi Bay.  Passes include admission to The Columbus Zoo and Aquarium and other benefits.
COSI:  There's nover enough time to enjoy all of COSI in a day, so a membership is a perfect way for loved ones to enjoy all of the traveling exhibits, Giant Screen Movies, Planetarium, and all of the regular COSI fun.  While COSI is more geared towards families and kids of all ages, there's fun to be had for any science lover.  Purchase a membership by December 15 and get a ticket voucher for Disney on Ice presents Reach for the Stars.
Franklin Park Conservatory and Botanical Gardens: With every changing exhibits and gardens, plus fun family activities each week, cooking classes, and other special events, it's unlikely someone could get bored with a membership to Franklin Park Conservatory.  No matter the weather, there will always be plenty of beauty to enjoy.
Columbus Museum of Art: This membership will thrill the art lover on your list.  CMA is such a fantastic place to explore, and features fun for all ages.
Local outdoor swimming pool: While these memberships are only valid for several months of the year, they pay off big time during the hot summer days.  Many local pools offer early bird discounts on memberships, so Christmas is the perfect time to buy.
Community Center membership: Community centers offer so many benefits for individuals or families.  From fitness, hobby classes, sports, events, and even indoor swimming pools, its a membership that can be used all year.  Pick the center closest to the recipient and be sure to ask if there is a discount for residents of the community, as many have reduced fees for local tax district and school district residents.
Wexner Center for the Arts:  From film to exhibits to special events, there's so much fun to be had at Wexner Center for the Arts.  They offer features that are family friendly, as well as ones that are perfect for date night.  Gift memberships are presented in a box with an extra gift included.
Mad River Mountain Ski Resort: If your recipient loves skiing pr snowboarding, Mad River Mountain is just a short drive away and is great for when they only have a few hours to ski and for practice before big ski trips.