The Columbus Clippers games offer exciting baseball action in a great ballpark in downtown Columbus!  The season opens on April 7, so make plans to see a game soon.  Tickets start as low as $7 for adults and $4 for kids under 12 and seniors over 60!
There are tons of promotions going on through the season, including giveaways, celebrity appearances, fireworks, and ZOOperstars, along with the following popular promotions.  Check out the full schedule of Columbus Clippers games here.
Fireworks
Enjoy fireworks after the game
May 19, June 16, July 4, July 21, August 18, September 1
Mondays
Sugardale Dime-A-Dog Night
Don't miss out on this Columbus tradition during every Monday night game! Sugardale hot dogs are just 10 cents each all night long at Huntington Park on Dime-A-Dog Night.
April 16, May 21, June 25, July 16, July 30, August 13, September 3
Tuesdays
City Barbeque 4 for $6 Night
This promotion is certainly worth getting your hands dirty! At the City Barbeque Stand in Right Field you can get four of City Barbeque's famous ribs for just $5 on Tuesdays.  Get your ribs early, as they will sell out sometimes.
April 17, May 15, May 22, June 5, June 26, July 17, July 31, August 14, August 28
Military and First Responder Night:  Reserved tickets $5 each with ID; limit of 4 per person. Previous purchases excluded, no other offers apply.
April 17, May 15, May 22, June 5, June 26, July 17, July 31, August 14, August 28
Wednesdays
Kids Eat Free: Youth 12 and under receive food and beverage voucher with a paid admission. Presented by Huntington Bank
April 18, May 16, May 23, June 6, June 27, July 4, July 18, August 1, August 15, August 29
Thursdays

Thirsty Thursday: Every Thursday Night home game, enjoy drink specials all game long: 32 oz. Domestic Draft Beer – $9.75, 32 oz. Premium Draft Beer – $10.75, 32 oz. Soft Drink – $4.75.
College ID Night: When you present a valid college ID you'll receive a reserved seat ticket and $5 in Clippers Cash (for food, beverage, or merchandise) for just $10! (Not available online. Call 614-462-2757 to reserve or purchase at walk-up ticket booths on gameday.)
April 12, May 3, May 17, May 24, June 7, June 28, July 5, July 19, Aug 2, August 16, August 30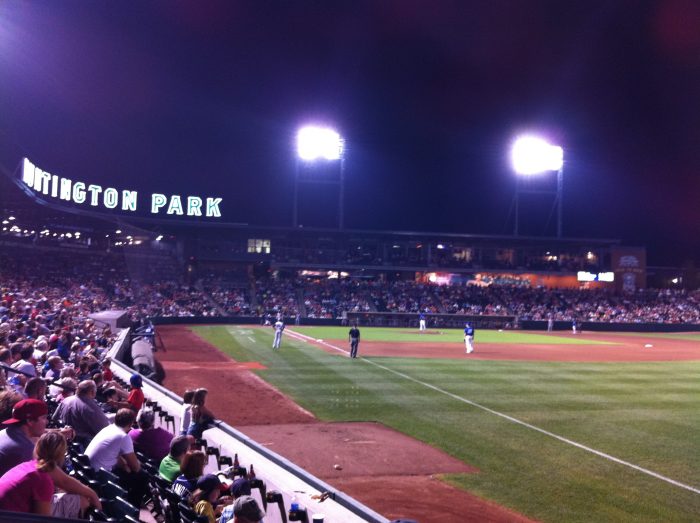 Fridays and Saturdays
Every Friday and Saturday home game will feature Party-At-The-Park with live music in the right field plaza as soon as the gates open… up to the first pitch. Fridays feature food and beverage specials – from 5:40-7, enjoy specials on food and drinks on the Right Field Plaza, plus our $5 Brewfest & Winefest drink specials all game. There are no food and drink specials for Party-At-The-Park events held on Saturdays.  Check out the band schedule and dates here.
Sundays
Bob Evans Family Day: Each Sunday at Huntington Park will be a Bob Evans Family Day. Fans can purchase a Family Day Admission for $15, day of game at the gate, that will admit two Adults and up to four youth 18 and under to General Admission seating in the left-field bleachers, the lawn seating area or for standing room only. For left-field bleacher seating, fans purchasing the Family Day Admission will receive a ticket that assigns each member of their party to a specific seat. Commit to be Fit Fun Run follows each game (kids run the bases).
Senior Sundays: $2 Bleacher, Lawn, or Standing Room Only or $5 Reserved Seating for Seniors 60 and older!
April 15, April 29, May 6, May 20, June 10, June 17, July 1, July 22, August 5, August 19, September 2
Business Day Special
Play hooky and catch a mid-day, mid-week game
May 17, May 24, June 7, July 17, August 15, September 3
Don't miss other popular promotions, such as National Space Weekend (May 5-6), Star Wards Night (5/19), Princesses & Pirates Day (5/20), ZOOperstars Appearance (6/29, 8/3), WWE Superstar and Hall of Famer Hacksaw Jim Duggan (6/30), LEGO Play Ball Tour Weekend (6/20-22), MARVEL Super Hero Night (8/18)
Don't forget – you can bring in your own food and beverage to Columbus Clippers games to save more money: SMALL bags or backpacks of food items and beverages in plastic bottles will be permitted (no alcohol).
Columbus Clippers Huntington Park
330 Huntington Park Lane
Columbus, OH 43215
(614) 462-5250