Music fans are flocking to drive-in theatres to watch concerts this summer! With tours on hold, Encore Drive-In Nights showcases the world's most iconic music stars with performances filmed exclusively for drive-in theaters across North America. After huge success with the Garth Brooks drive-in concert experience, Encore Live presents Blake Shelton, Gwen Stefani, and Trace Adkins one-night-only concert event to air on-screen at drive-in theaters across the U.S. on Saturday, July 25, 2020.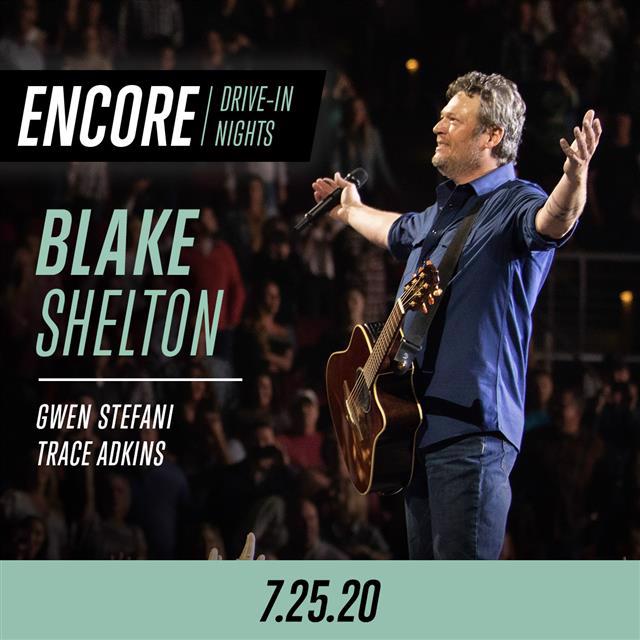 ​The drive-in concert is recorded exclusively for this event and will be show at participating theatres only – never to be seen again. The show will be the largest ever one-night concert to play outdoor theaters across the US and Canada. These concert events are family-friendly, so this could be a great way to expose younger kids to a concert experience without the crowds and concerns about live concerts.
This is a pre-recorded drive-in concert; the performers will NOT be present at any of the locations or performing live for this concert. It will be similar to watching a movie, but this is the ONLY chance you'll get to see this show! And you can expect fans to be singing and dancing along with the show (safely, and at a distance from others, of course).
Encore Drive-In Concert Nights presents Blake Shelton with Very Special Guests Gwen Stefani and Trace Adkins
Tickets are on sale now through Ticketmaster. Tickets are $114.99 per vehicle, with no more than 6 people per vehicle. If you have 6 people in your car, the cost is less than $20/person.
While not everyone is willing to pay this price to watch a pre-recorded concert on screen, plenty of people are excited about this for a great night out with family or close friends.
Find locations and purchase tickets here!
Local Drive-in concert locations
South Drive-in
3050 S High St, Columbus, Ohio 43207
No outside food or beverages permitted. Concessions and restrooms will be open. No alcohol permitted. Tickets must be purchased in advance. Sound will be played through lot speakers & FM radio sound.
Evening show: 7:30pm, show time 9:30 p
Pickerington Cinema
1776 Hill Road North, Pickerington, OH, 43147
No alcohol. Sound will be broadcast through FM radio; bring a portable radio to save your car battery.
Evening show: Show time 9:15 pm
See other concert locations here – many drive-in theatres in Ohio are showing the concert.
Other articles of interest