While Columbus isn't "known" for Madri Gras celebrations, that doesn't mean YOU can't celebrate in your own way!
The celebration of Mardi Gras Fat Tuesday marks the end of the Carnival season and the last night of excess before the Lenten season. Originally adopted from French immigrants, it's a legal state holiday in Louisiana, but celebrated all over the US.
We're gathering a list of Mardi Gras specials and events around Columbus, with lots of way to celebrate at home. Grab your beads and a King Cake, and celebrate New Orleans-style at home on Tuesday, February 16, 2021!
While anything from J. Gumbo's menu would be appropriate for Fat Tuesday, they are offering a special Mardi Gras Shrimp Boil. Order will include everything you need to prepare a Shrimp Boil at home! The four person party pack includes:
Shrimp Boil (2 lbs peeled, headless shrimp, andouille sausage, red onion, corn, red potatoes, lemons, and cajun butter sauce
Gambino's Traditional King Cake
4 pieces of sweet cornbread
One loaf french bread
The package is $102.16. Presale available online; deadline is February 8 at 7:04 pm. Pickup is on February 15 between 4:00 – 6:30 pm. Find more details on Facebook page.
9 N Sandusky St, Delaware, OH 43015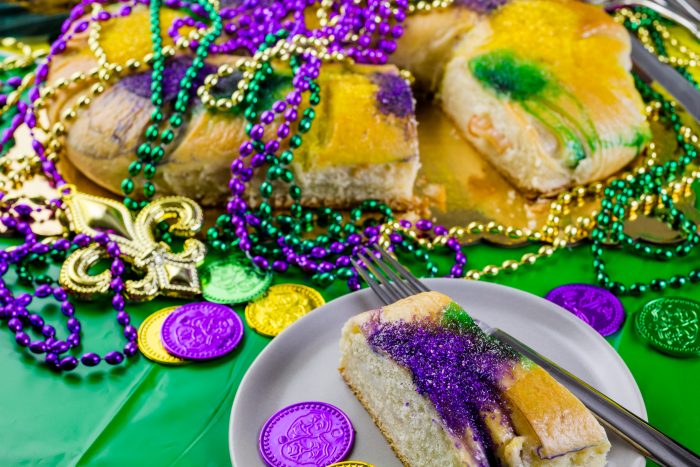 Order a complete carry-out dinner from La Chatelaine for Fat Tuesday! Get a 4-course dinner and drink bundle for just $50. Dinner includes:
Hurricane Punch
Salad New Orleans with a warm bacon vinaigrette
Crawfish Bisque with two whole-cooked crawfish
Jambalaya served with Creole rice and packaged sous-vide
Individual King's Cake, with puff pastry and almond paste (and a porcelain charm!).
Plus beads, masks, and trinkets are included with each dinner!
Curbside pickup is available on February 16 at each of the 3 locations: Dublin, Upper Arlington, and Worthington. Call, stop by a location, or place an online order.
La Chatelaine is offering a Mardi Gras carry-out dinner complete with king cake and more. The French bakery's $50 four-course dinner and drink bundle is available for online order for pickup Feb. 16 at any of the eatery's three locations.
Cameron Mitchell Premier Events has created the perfect Fat Tuesday family meal to-go. The meal for four people includes cajun mini crab cakes, chicken and andouille gumbo, baked mac & cheese, and of course, king cake dip with white chocolate and sprinkle-coated pretzels.
Place your order by Friday, February 12 at 7 pm! Pick up on Tuesday, February 16 from 9am-5pm at Cameron Mitchell Premier Events
7619 Huntington Park Drive, Columbus, OH 43235. To order, email cateringrequest@cameronmitchell.com or call 614.848.4700.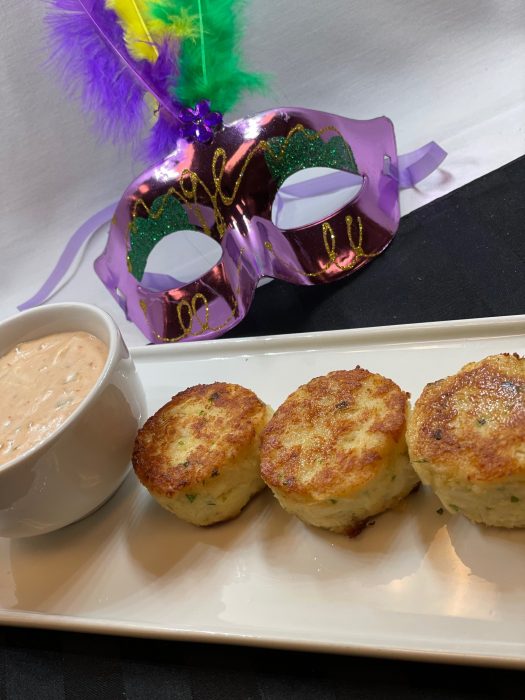 Tour of the French Quarter on Tuesday, February 16, 2021 from 3:30 PM – 7:30 PM. Curbside pickup available. Menu and order link will be updated in Monday morning for that week.
The Kitchen, 231 East Livingston Ave. Columbus, OH 43215
If you're looking for a colorful reason to get out and run or walk this February sign up today for the 2021 Mardi Gras Virtual 5k Run Walk. Participants Receive:
Mardi Gras Virtual 5k Finisher Medal
Official Tyvek Race Bib
Mardi Gras Finisher Shirt (Included)
Pick your location – inside or outside – to run or walk your race. Register here.
Looking for Paczki?
Pączki are a specialty pastry made on Fat Tuesday as a Catholic day of celebration before the Lenten season, and the last day to indulge in foods before the traditional 40-day period of fasting before Easter. There are several places you can find Paczki in Columbus- find the awesome list from Breakfast with Nick (after all, he's an expert at this type of thing!)
Find other fun events for adults, including date ideas!
Friday, May 7, 2021
Saturday, May 8, 2021
Sunday, May 9, 2021
Monday, May 10, 2021
Tuesday, May 11, 2021
Wednesday, May 12, 2021
Thursday, May 13, 2021
Friday, May 14, 2021
Saturday, May 15, 2021
Sunday, May 16, 2021
Monday, May 17, 2021
Tuesday, May 18, 2021
Wednesday, May 19, 2021
Thursday, May 20, 2021