For more than three decades, Ronald McDonald House Charities of Central Ohio (RMHC) has been keeping families close at the Columbus Ronald McDonald House while children receive life-saving treatment. From its beginnings as a grassroots movement established by a partnership between volunteers and local McDonald's Owner/Operators, the charity has served thousands of families in their deepest times of need.
Pop Tab Donations for RHMC
Have you been saving pop tabs and metal can tabs? The Ronald McDonald House can use them! They collect aluminum tabs from pop cans, beer cans, and seltzer cans, as well as can tabs from soup, vegetable, pet food and even tennis ball cans! They earn money from the tabs, which help fund the housing and programming for families that stay with them.
You can collect your own tabs at home, or start a school or workplace donation site. All tabs help! Just start saving them in a clean container or bag. You can even make it more official with printable labels.
Pop tabs can be dropped off to Ronald McDonald House at 711 E. Livingston Avenue at the front desk. Or you can attend the Pop Tab Donation Day to drop the off and enjoy fun activities and food trucks!
Pop Tab Donation Day and First Food Truck Friday
Drop off your tabs at Ronald McDonald House on Pop Tab Donation Day on Friday, June 4 from 11 am – 2 pm. You have a month to collect! The event is in coordination with the First Food Truck Friday, so grab lunch while you're there. The food trucks give a portion of sales to RMHC of Central Ohio during the event. Cousin's Maine Lobster, Loops, & Graeter's Ice Cream will be there!
Representatives from Research Alloy will have interactive activities and be on hand to answer questions about other items that have aluminum that can be dropped off at Research Alloy, with proceeds going to the Ronald McDonald House!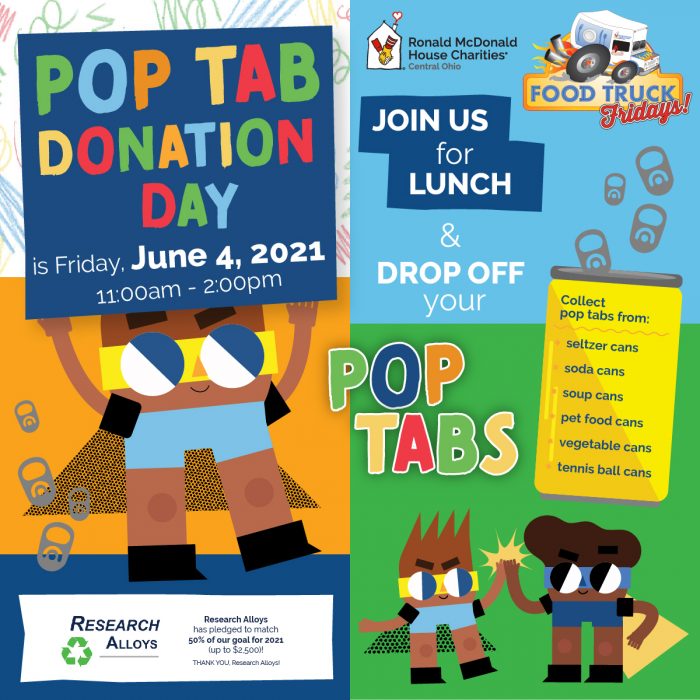 Food Truck Fridays at RMH
Grab lunch at Ronald McDonald House every Friday from 11 a.m. – 2:00 p.m. in June & July during Food Truck Fridays! Food trucks will donate 10% of their proceeds back to the Columbus RMH. This is a public event – no tickets required! Trucks will be in the front parking lot of the Ronald McDonald House located at the Southwest intersection of Livingston and 17th Avenue.
Other ways to donate aluminum
You can also donate pop tabs and any items with aluminum such as appliances directly to Research Alloys at 110 N Sylvan Ave, Columbus, OH 43204! Tell the associate that the proceeds go to the RMH.
If you're not local, you can take pop tabs to your local recycling facility and ask that the check be made out to Ronald McDonald House Charities of Central Ohio. Send the check to RMHC and they'll send a note of thanks in the mail.
Ronald McDonald House
711 E. Livingston Avenue
Columbus, Ohio
website | Facebook
Looking for more food trucks to benefit Ronald McDonald House?
Food Truck Wednesdays and Fridays at NCH Dublin Campus/Dublin SMOC
If you're close to Dublin on select Wednesdays & Fridays from April – October 6, get lunch at a food truck to support Ronald McDonald House Charities. A truck will be parked in the parking lot east of the main entrance at the Dublin Sports Medicine & Orthopedic Center between 11:30 a.m. and 1:30 p.m.! A portion of proceeds and a parking fee paid by the truck goes to RMHC so families from far away can stay near their children while getting medical attention at Nationwide Children's Hospital facilities.
Click here for details, schedule, and order ahead link.
5680 Venture Dr, Dublin, OH 43017, USA
Food Truck Fridays at Behavioral Health Pavilion for RMHC
Fridays, May 7 through September 4, 2021. You'll find a food truck in the front entrance parking lot at the BHP between 11 a.m. and 2 p.m. on Fridays! A portion of proceeds and a parking fee goes to Ronald McDonald House Charities of Central Ohio so families can stay near their children while getting medical attention at Columbus hospitals.
See event page for details and link to schedule.
Big Lots Behavioral Health Pavilion, 444 Butterfly Gardens Dr., Columbus, OH 43215
More ways to help RMHC
Donations and Volunteering at Ronald McDonald House
Please call 614-227-3700 to find out the process for dropping off donations, and what is accepted. They also have opportunities for other types of wish list donations.
Volunteer opportunities are currently limited, but you can get groups and kids involved by making assembled snack bags and no-sew snack blankets. These activities are done off-site, and are a great way to get your kids involved in the spirit of giving and serving others. See website for on-site or event volunteer opportunities.
When
Weekly on Wednesday and Friday @ 11:30 am-1:30 pm (April 30, 2021 - October 6, 2021)
What
Food Truck Wednesdays and Fridays at NCH Dublin Campus/Dublin SMOC
When
Weekly on Friday @ 11:00 am-2:00 pm (May 7, 2021 - September 3, 2021)
What
Food Truck Fridays at Behavioral Health Pavilion for RMHC
When
Weekly on Friday @ 11:00 am-2:00 pm (June 4, 2021 - July 30, 2021)
What
Food Truck Fridays at RMH
When
June 4, 2021 @ 11:00 am-2:00 pm