It's time to enjoy some Spring cocktails in Gahanna! The Herb Capital of Ohio is Gahanna, and local restaurants, pubs, and distilleries have created some special herbal-based recipes for the Gahanna Herbal Cocktail Trail!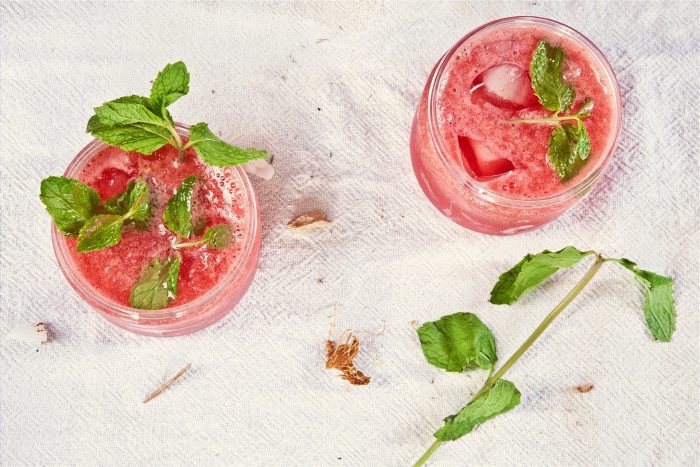 Grab a Herbal Cocktail Trail from Visit Gahanna (110 Mill St), the Ohio Herb Center (110 Mill St), or any of the 7 participating establishments to get started. Enjoy new seasonal spring herbal cocktail creations at your own pace through June 30, 2021. Make sure to ask for a stamp for your passport!
Once you've collected 6 stamps for your passport, bring it to Visit Gahanna from Monday–Friday 10 AM–6 PM, and Saturday 10 AM-4PM to redeem your passport for an Herbal Cocktail Trail Flask.
Participating locations for Gahanna Herbal Cocktail Trail
101 Beer Kitchen | 397 Stoneridge Ln., Gahanna
Cocktail: Lavender Lemonade
Tito's handcrafted Vodka, Stoli Citros Vodka Infused with Fresh Lemon Juice, Lavender, Blueberries, and Vanilla Bean garnished with Fresh Blueberries
Barrel & Boar | 121 Mill St Suite 130, Gahanna
Cocktail: Strawberry Basil Lemonade
Gin, Lemonade, Simple Syrup, Strawberries, and Muddled Basil Leaves
Arepazo | 93 N. High St, Gahanna
Cocktail: Berry Lovely Mojito
Cazadores Blanco, Triple Sec, Muddled Limes with Mint, Raw Sugar, Berry Syrup, and a Splash of Soda Water
Wyandotte Winery | 4640 Wyandotte Dr, Columbus
Cocktail: Lavender Lemonade Wine
Lemonade infused with Lavender, made with White Wine
Nostalgia Brewing | 81 Mill St. Suite 150, Gahanna
Cocktail: Marvin Gardens
A botanical infusion of Vodka, Mint, and Cucumber. Made with Fresh Cucumbers, Lemonade, and Soda.
Edison Brewing Company | 785 Science Blvd., Gahanna
Cocktail: Mai Tai Mary
Plantation Rum, Bacardi, Pistachio Orgeat, Triple Sec, Lime Juice
Crafted Culture Brewing Company | 505 Morrison Rd, Gahanna
Cocktail: Thin Mint Julep
White Creme de Cocoa, Bourbon, Cane Sugar Simple Syrup, Fresh Mint Leaves, Garnished with a Thin Mint Girl Scout Cookie and Mint Sprig
Which drink sound best to you?!
Visit during CORA and get your drink to-go!
Visit Gahanna during CORA hours in Gahanna, and you can carry your drink from participating establishments with you while you explore Creekside. Not all locations in the Herbal Cocktail Trail are within CORA boundaries. See details about CORA and other fun events and activities in Gahanna.
Gahanna Creekside Arboretum, Paddling, CORA Outdoor Refreshment, and more
Check out more fun events in Gahanna and surrounding areas
Friday, May 7, 2021
Saturday, May 8, 2021
Sunday, May 9, 2021
Monday, May 10, 2021
Tuesday, May 11, 2021
Wednesday, May 12, 2021
Thursday, May 13, 2021
Friday, May 14, 2021
Saturday, May 15, 2021
Sunday, May 16, 2021
Monday, May 17, 2021
Tuesday, May 18, 2021
Wednesday, May 19, 2021
Thursday, May 20, 2021
Friday, May 21, 2021
Saturday, May 22, 2021
Sunday, May 23, 2021
Monday, May 24, 2021
Tuesday, May 25, 2021
Wednesday, May 26, 2021
Thursday, May 27, 2021
Friday, May 28, 2021
Saturday, May 29, 2021
Sunday, May 30, 2021
Monday, May 31, 2021
Tuesday, June 1, 2021
Wednesday, June 2, 2021
Thursday, June 3, 2021
Friday, June 4, 2021
Saturday, June 5, 2021
Reader Interactions