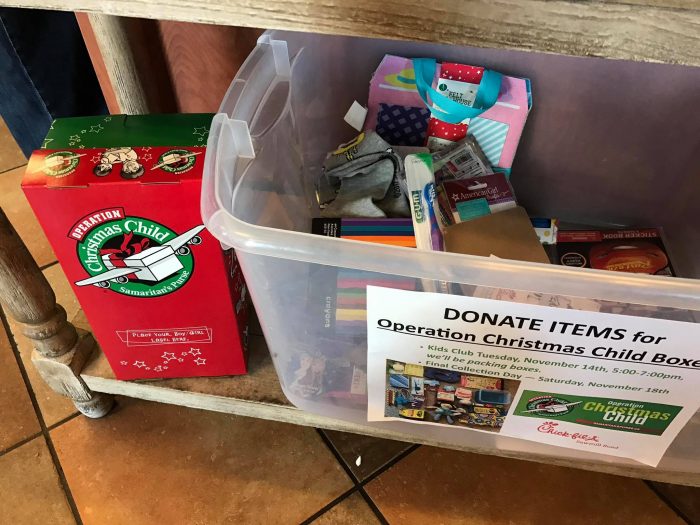 Join Chick-fil-A on Sawmill for the Kids' Club "Night of Thanks" on Tuesday, November 14 from 5-7 pm.  This will be a great service opportunity to teach kids how to be thankful for all that they have.  The group will be learning about "well" project and pack boxes for Operation Christmas Child.
Circle times will be 5:00, 5:45 and 6:30pm, with stations to visit in between. You'll be packing an Operation Christmas Child shoebox for a child, so please come prepared with items for a girl or boy (ages 2-4, 5-9, 10-14)…new this year, no candy or toothpaste.  Check out the suggested and approved items here.  Hit up Target or a Dollar Store to get items for a child in another country who has very little…it could literally change their life, and may have a big impact on your own child's life.
Saturday, November 18 is the last day to drop off Operation Christmas Child boxes at Chick-fil-A Sawmill if you wish to pack your own box. Get a free breakfast digital card when you drop off your boxes.
If you can't make the event and you wish to participate in Operation Christmas Child, there are drop off locations for boxes throughout Central Ohio up until November 20, or you can Build A Shoebox online to be packed and sent for $25.